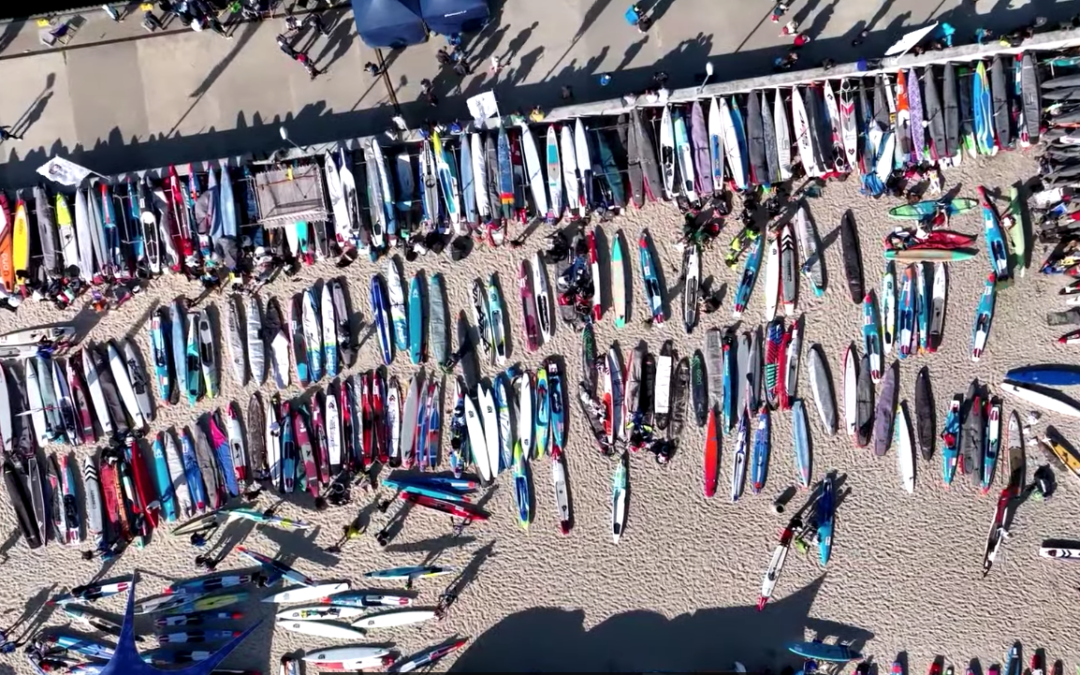 The dawning of the final day brings with it the crescendo of pain and pleasure, a hint of nostalgia, and farewell to friends both old and new.
Above all, it must be crowned with a great desire to return home for rest and refreshment from the superhuman efforts of the paddlers over the last few days.
The South African fans eagerly awaited this day, as Cameron Tripney was up for the B final of the Junior boys' technical race! This was only made possible after some serious consideration the night before – his exhausted mind and body versus the motivational messages from his devoted fans and family! He would go!
Launching comfortably into the race, Cameron then kicked up the power levels and pulled away with his superb sprinter's pace. He set about holding first position comfortably all along, despite the commentators' concerns that his nearest rival might find a gap. Cameron gave him no reason to do so. He cruised through the course, swept past the buoys with no resistance, and hammered for the beach. His final sprint was a comfortable one, knowing he had it well in the bag! What a great and memorable paddling journey he has had at World Champs. A truly inspiring young man that all have grown to know and love!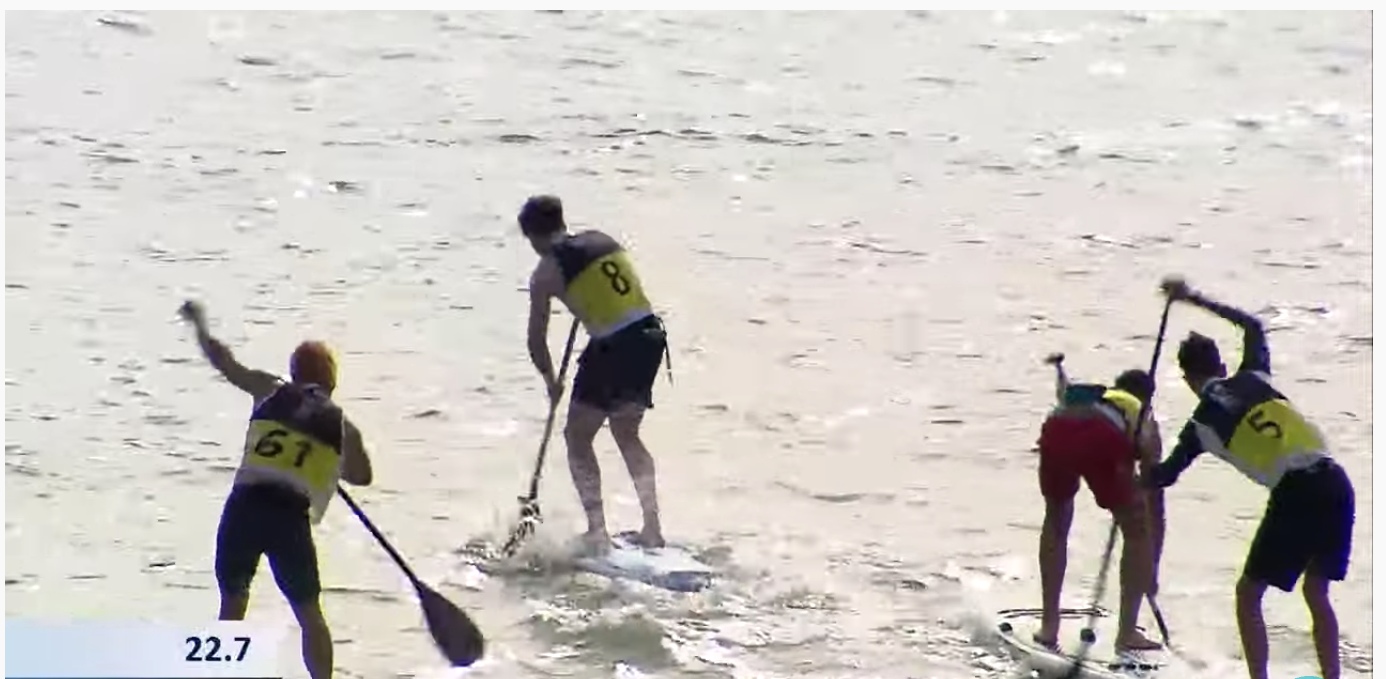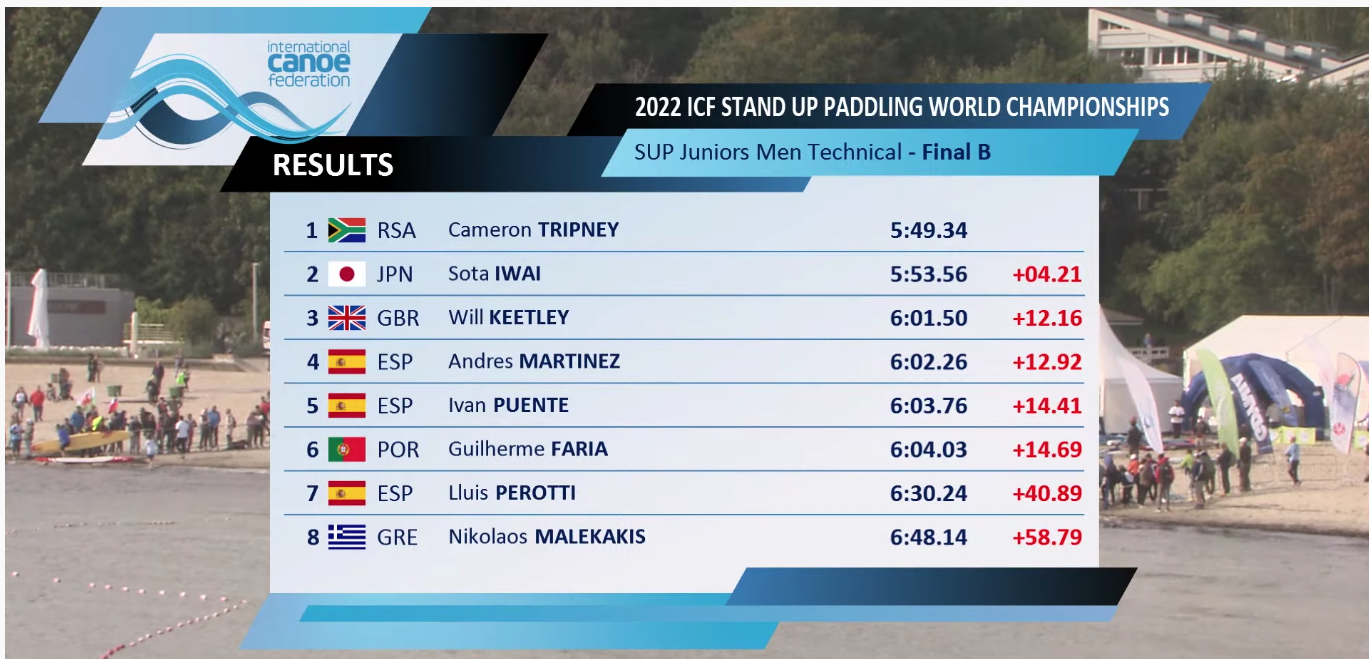 A fantastic surprise came along at the end of the day – our boys came second overall for the distance race! What a lovely way to honour their endurance in those extreme conditions.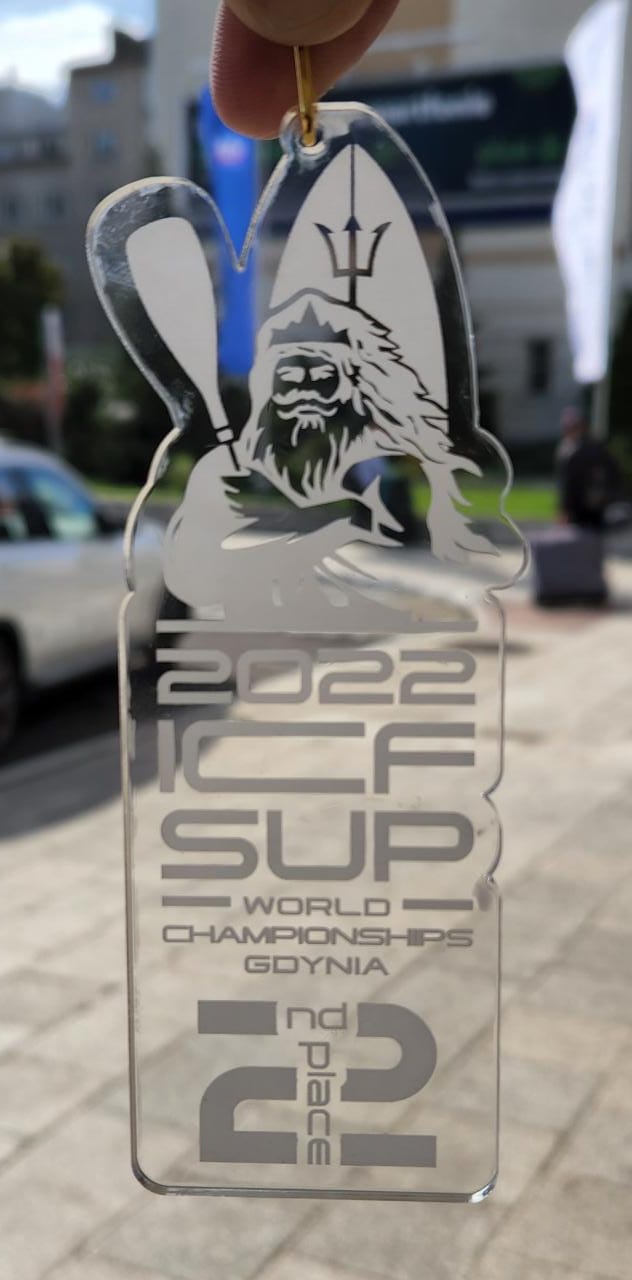 The athletes from South Africa have been reflecting on their journey to Poland and what it is like to compete at an international level:
Elmari Renecle, Team Captain shows the positive outcome of all that she experienced at Worlds:
My second World Championship done and dusted.  Although I didn't get the results I was hoping for in the sprints, I felt strong in the Technical race & know that I have what it takes to do really well. It was a great learning curve for me and the most important lesson I will take away with me, is that you have to race the board that you train on.  Also, for me personally, it's better to  focus on the disciplines that you are the strongest at, then you stand a better chance to do well.  I really enjoyed the experience and had fun and now I have some new goals to work towards.
Evette Terblanche, paddling in a category with others younger than her age:
I had the best time on the water today. Even though cut off early on in the race, I beat people less than half my age. A shot at the semis would have been amazing, but it was not meant to be. I saw some really bad sportsmanship and also the other end, some 50+ lady making everyone dance on the start line.

What have I learnt? Compete, compete hard, give your all and celebrate your rivals at the finish line. Happy and content, I can't wait to compete in my own age group again. Our community is growing every year, from Austria, Germany, Greece, Ukraine, Slovenia, England, Sweden. Too many to mention!!!  Connor Baxter, Fiona Wylde, Michael Booth and the entire Starboard team, came running towards us, with open arms. Wow!! Bart de Swardt watched our junior races with keen interest. We were so honoured. Mega marathon sup legend!!!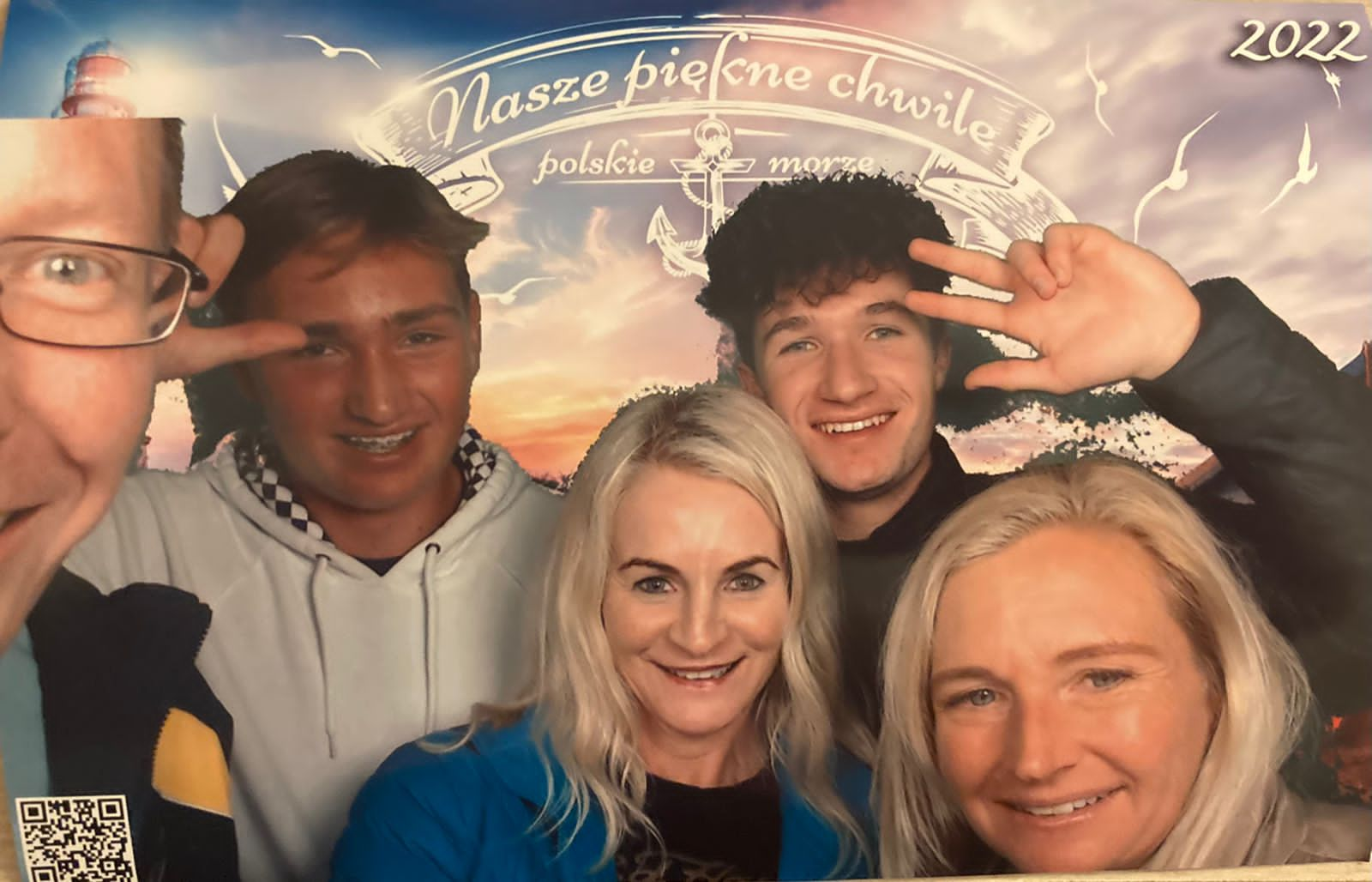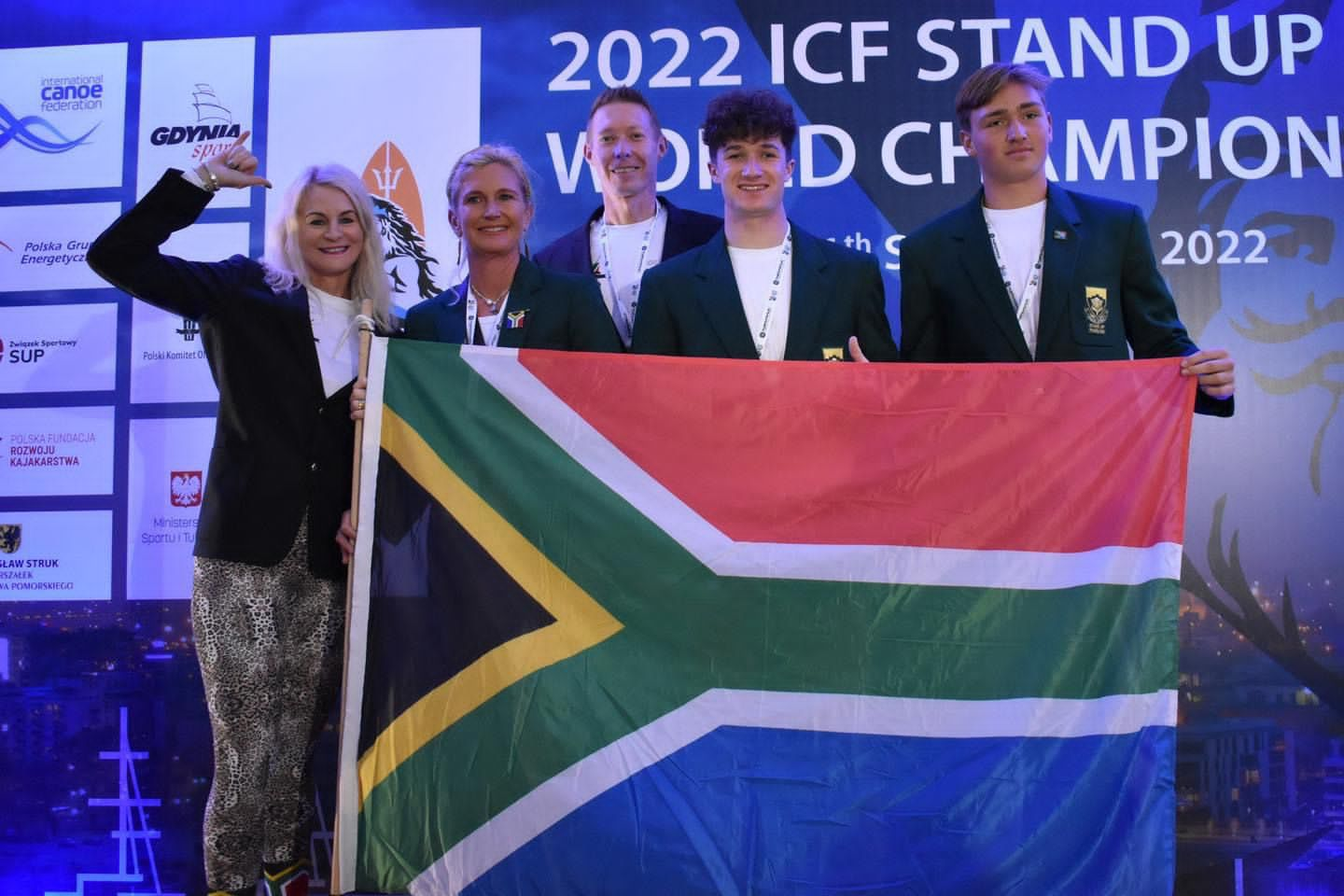 Murray James, our paddler from warmer waters:
Amazing first experience of international racing. In SA we simply don't get to compete and experience racing at this level.

Lots to learn and take away from the trip.

Board selection is vital, having the right board for the conditions.

Training for the worst case scenario conditions that the venue can have is super important.
Cameron Tripney, on his first and last international as a junior:
•Was great to meet everyone especially the top world class paddlers I looked up to since I was young.

• Poland is an amazing country so different from others but extremely unique.

• Won a gold medal in sprints which still doesn't feel real, can't believe it happened, but put in many hours of training for this.

• Was a special ending to my junior paddling career on the international scene, excited to take on the open men next year.
Steve Tripney, the now infamous father of Cameron and donator of hamstring strands, also summed up his overall experience as a supporter:
A long journey, but our arrival at the hotel made a great first impression, meeting the efficient and genuine Polish people.

The hype around the event and Cameron's gold medal was massive, as was the incredible treatment received from Starboard. The long distance race was a disappointment for the boys and in fact all who expected flat water, but the choice of open ocean in the bad weather was questionable, seeing as so many people were unable to finish the race. The technical race was a hard and disappointing one, but a lesson learnt in lifting oneself up overnight, when Cameron came back to win his final in the second fastest time overall for the day!

All in all, a fantastic experience, but the organisation was not as great as it seemed last year, with too many boards on top of each other at starts, and many false starts in sprints and technical races that were not penalised. The good side –  we are looking forward to the party at the end!
Anja Burger, Team Manager:
I am incredibly proud of the SA team who competed against the world's best for the last 5 days. We can celebrate that SA is on the SUP world map. It was a stressful but incredible week in the SUP worlds for SA.
We will say goodbye with this beautiful image from Poland, a reminder of why we paddle.