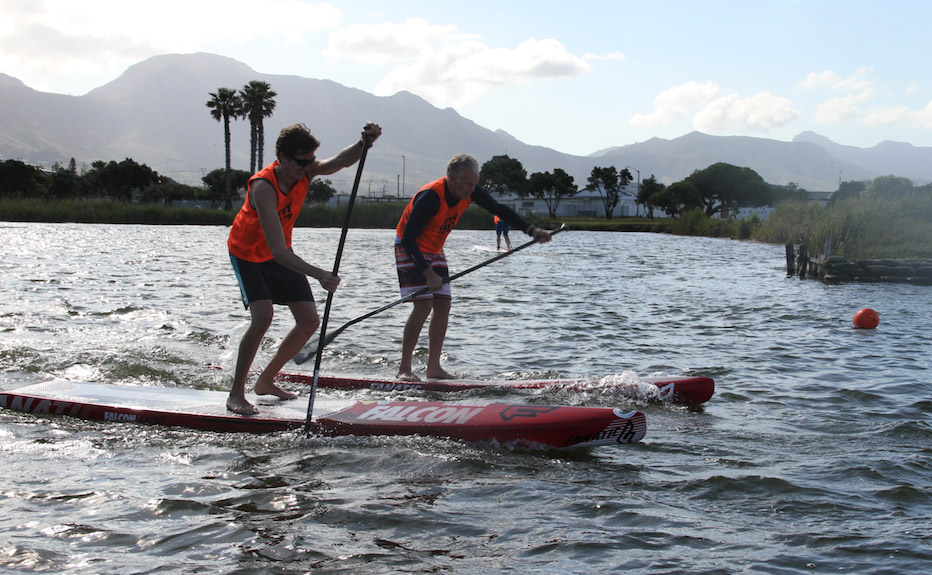 The Mistral South African Stand Up paddling Championships 2017
Mistral, in conjunction with Xpression on the Beach held the SA Champs over two days (20/21 October). Sixty paddlers turned out to compete for the coveted title of South African Champion and an opportunity to represent their country at the ISA World Champs in 2018.
Day 1 – Flat water tech and long distance racing was held at Zandvlei in mildly windy conditions that made for a testing course. Dylan Frick (SA's No.1 racer on flat water) managed to stay ahead of the chasing pack and edged out Mistral team riders Rory Smythe and Tom King, while in the ladies division, Tatum Prins and Khara Doyle battled it out in the tech as well as the long distance race, with Tatum clinching the racing title. Evette Terblanche stole the show in the Wahine Social Division and Cameron Tripney walked the juniors.
Day 2 – Wave riding took place at Muizenberg Surfers Corner. A 3 to 4ft running swell with great offshore conditions ensured that the best surfers emerged at the end of the day. Tom King, the Open Men's division winner, never faltered once – winning every heat by a substantial margin, leaving Nathan van Vuuren, Dylan Frick and Matt Maxwell to fight for the minor placings. Gary van Rooyen took the win in the Legends (over 45 yrs), edging out old rival Dave Maxwell. The twins, Penny Stemmet and Tammy Robarts see-sawed another final with the former winning the Ladies Open division on this occasion. It was great to see the Wahine social ladies out in some challenging conditions too, Megan Smith and Ingrid Peters tying up first position and Missy Volker winning the Diva's from Lynn Robertson.
| | | | | | | | |
| --- | --- | --- | --- | --- | --- | --- | --- |
| Race Position | Name | Gender | Technical racing | Race Time 7 KM | 7km Race pos | Combined score | Race Number |
| OPEN MEN | | | | | | | |
| 1 | DYLAN FRICK | M | 0.7 | 41,03 | 0,7 | 1,4 | LEADERS JERSEY |
| 2 | THOMAS KING | M | 2 | 42,20 | 3 | 5 | 95 |
| 3 | RORY SMYTHE | M | 4 | 42,04 | 2 | 6 | LEGENDS JERSEY |
| 4 | KIMON DOS SANTOS | M | 3 | 42,21 | 4 | 7 | 82 |
| 5 | CAMERON TRIPNEY | JM | 8 | 44,20 | 6 | 14 | |
| 6 | GARY VAN ROOYEN | M | 6 | 45,46 | 9 | 15 | 96 |
| 7 | TYRAN COOPER | M | 9 | 44,38 | 7 | 16 | 97 |
| 8 | CHARLES HIGGENS | M | 12 | 43,16 | 5 | 17 | 9 |
| 9 | GUY BUBB | M | 10 | 46,03 | 10 | 20 | 85 |
| 10 | MIKE TERON | M | 11 | 46,27 | 11 | 22 | 2 |
| 11 | DAVE MAXWELL | M | 7 | 46,27 | 15 | 22 | 7 |
| 12 | SEAN CUMMINGS | M | 5 | 48,47 | 17 | 23 | 5 |
| 13 | CRAIG GIRDELSON | M | 13 | 47,36 | 13 | 26 | 93 |
| 14 | STEVE SEARLE | M | 20 | 44,53 | 8 | 28 | 86 |
| 15 | DAVID WERNAS | M | 17 | 47,50 | 12 | 29 | 90 |
| 16 | ADRIAN VAN VARIK | M | 16 | 47,37 | 14 | 30 | 88 |
| 17 | SIEBREN TADIEMA | M | 20 | 47,57 | 16 | 36 | 87 |
| 18 | ANDREW MAYES | M | 18 | 55,07 | 19 | 37 | 99 |
| 19 | IAN WILSON | M | 20 | 53,07 | 18 | 38 | 4 |
| 20 | JUSTIN LINLEY | M | 14 | | DNF | | 94 |
| 21 | RICK VOLKER | M | 19 | | S/C | | 42 |
| | | | | | | | |
| | | | |   |   |   | |
| OPEN WOMEN | | | |   |   |   | |
| 1 | TATUM PRINS | F | 0.7 | 51,13 | 0,7 | 1,4 | 6 |
| 2 | KHARA DOYLE | F | 2 | 51,28 | 2 | 4 | LEADERS JERSEY |
| 3 | MONIKA WOHLGEMUTH | F | 4 | 59,21 | 4 | 8 | 80 |
| 4 | LIZANIE TERON | F | 3 | -A431 | 5 | 8 | |
| 5 | LYNN ROBERTSON | F | 7 | 58,02 | 3 | 10 | 10 |
| | | | | | | | |
| LEGENDS | | | |   |   |   | |
| 1 | RORY SMYTHE | M | 4 | 42,04 | 2 | 6 | LEGENDS JERSEY |
| 2 | GARY VAN ROOYEN | M | 6 | 45,46 | 9 | 15 | 96 |
| 3 | CHARLES HIGGENS | M | 12 | 43,16 | 5 | 17 | 9 |
| 8 | DAVE MAXWELL | M | 7 | 46,27 | 15 | 22 | 7 |
| 4 | MIKE TERON | M | 11 | 46,27 | 11 | 22 | 2 |
| 5 | CRAIG GIRDELSON | M | 13 | 47,36 | 13 | 26 | 93 |
| 6 | STEVE SEARLE | M | 20 | 44,53 | 8 | 28 | 86 |
| 7 | ADRIAN VAN VARIK | M | 15 | 47,37 | 13 | 28 | 88 |
| | | | |   |   |   | |
| DIVAS | | | |   |   |   | |
| 1 | MONIKA WOHLGEMUTH | F | 4 | 59,21 | 4 | 8 | 80 |
| 2 | LYNN ROBERTSON | F | 7 | 58,02 | 3 | 10 | 10 |
| | | | | | | | |
| | | | | | | | |
| JUNIOR BOYS | | | | | | | |
| 1 | CAMERON TRIPNEY | J | 0.7 | 44.2 | 0.7 | 1.4 | LEADERS JERSEY |
| 2 | LEVI MAYES | J | 2 | 50.08 | 2 | 4 | 98 |
| | | | | | | | |
| | | | | | | | |
| JUNIOR GIRLS | KEENA THOMPSON | J | 0.7 | | 0.7 | 1.4 | |