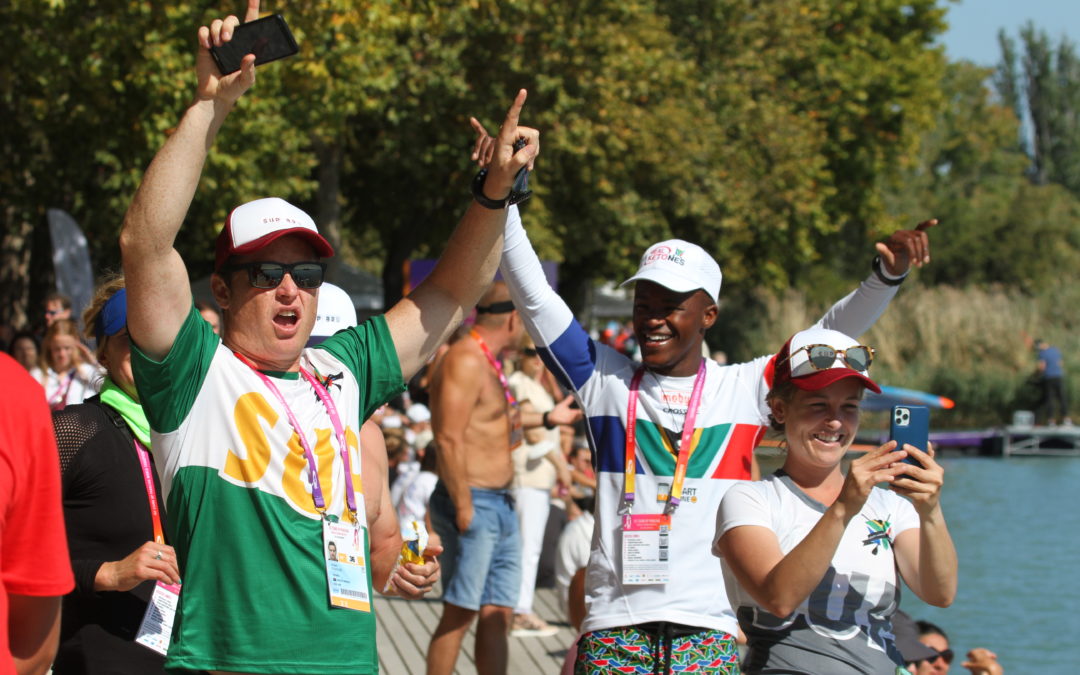 ICF SUP World Championships 2021: Day 4 of the World Championships in Hungary
The day of dread has arrived – it is finals day and the last day of the competition! A time for the paddlers to give it their all, then to say goodbye to new friends and the beautiful Lake Balaton that has been both their home and battleground for the last 10 days.
Gary's Technical semi was packed with pure masculine power and a display of neatly manoeuvered buoy turns driven by adrenalin pumping from start to the finish.  Despite beating his winning time from Saturday's race, he said later that he could not beat the other paddlers, who were, "just faster"…. Gary placed 7th to reach Final B.   
Evette's Technical semi-final race was marked by chaos, with cutoffs at the buoy turns, people who could not paddle straight, and a leader who fell off her board, then went to the wrong buoy; yet still managed to catch up again – sheer determination and drive!  Evette maintained her cool in the midst of this and finished with a 5th place, just missing the final.
Chiara made a great statement amidst the much-favoured Spanish girls during her Technical Semi final. She maintained a good pace and was consistent throughout, finishing 4th, with a spot in the Finals!
A race hotly contested and tightly bunched, with the leaders more than a full board's length ahead at the start. Buoy turns were done in groups, with control being the essential element needed to negotiate them safely.
From turn number 4, the men had settled into a good train, and the buoy turns became less congested at the front, but a few at the back still took some falls.
As the contestant ahead of him went down, Guy had to muster his all to keep from joining him in the water – well managed! The winner took a time of 5:46 and Guy finished in 6th place for final C.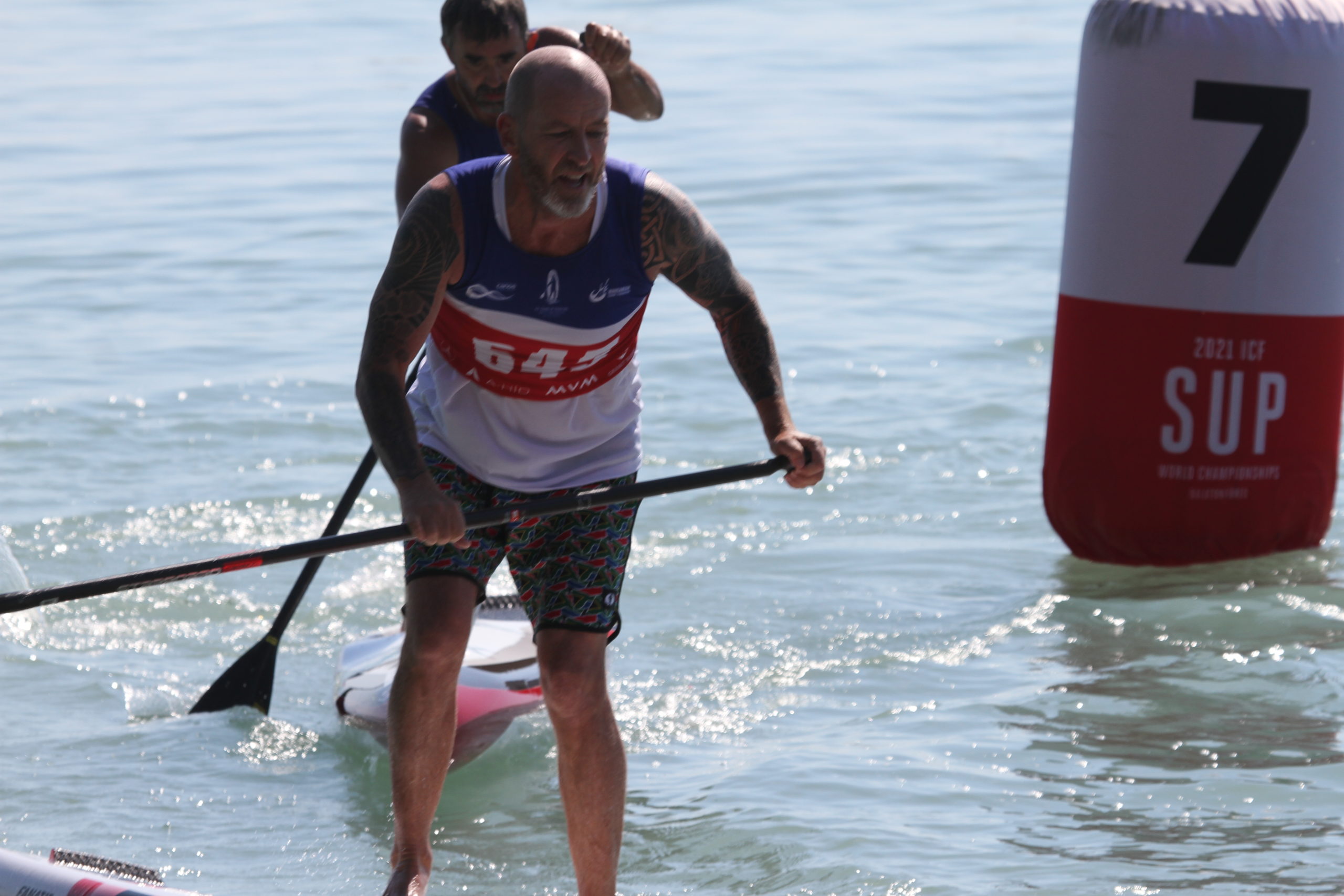 A very fast start in the Men's 50+ Technical Final B, with the contestants almost equally matched yet again.
Good drafting and solid paddling dominated in this race. These men are masters at their buoy turns and just work them so well.
The leader had shown consistent strength throughout all his races, and had a comfortable lead for most of the time. Gary was relentlessly paddling hard in the group, but just could not find a gap to make a break.
Once again – the pace and strength of these masters was exemplary, proving to all that age is just a number! Gary placed 8th in this Men's 50+ Technical Final B.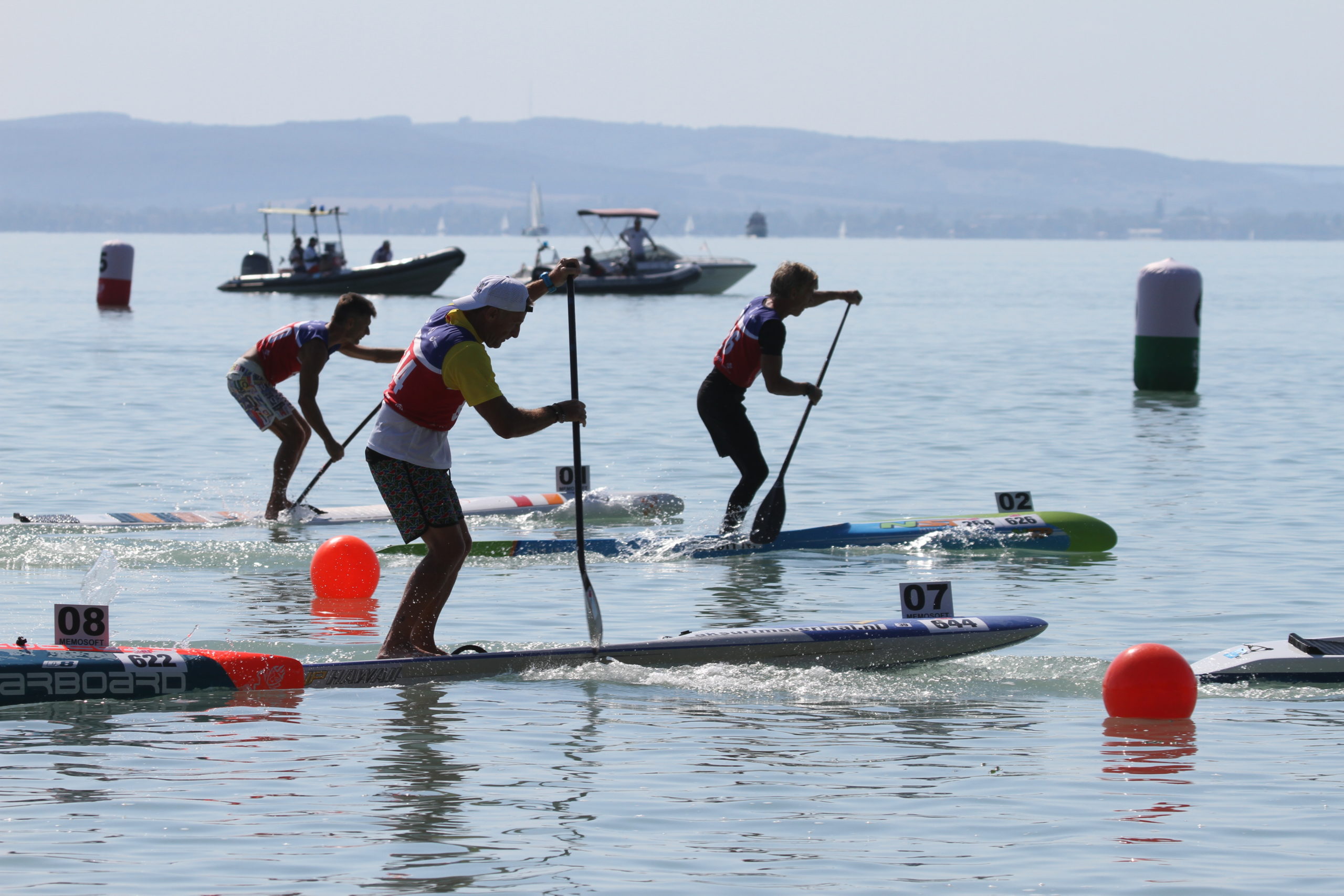 In Elmari's Technical Final for the 50+ women, the ladies stepped out to much fanfare, and the SA group doing its fair share of noisemaking to make her feel loved and supported.
The group got off to a very strong start, but a bit of lane switching got them going into a tight mix at buoy one. Elmari was down on to her knees at buoy no 3 as the mix got a bit rough. This race was a tough fight especially at the buoys.
The leader took a 2 board-length lead from buoy 6, and Elmari finished in 8th place in a hard-hitting race from the top ladies. Really a great place for her first time at Worlds.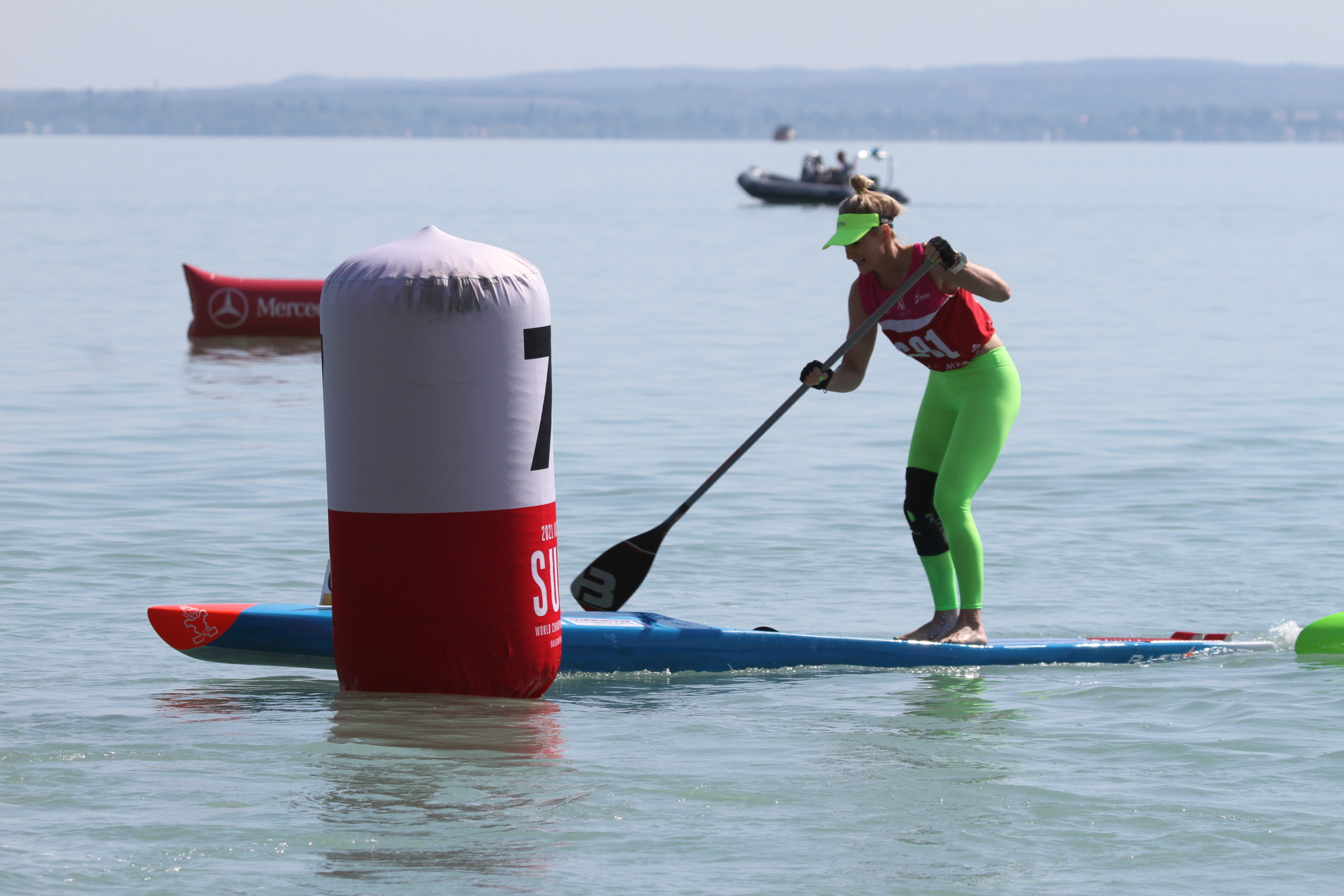 It can't be easy stepping out for the Junior Girls Final amidst a group of girls that are already firm favourites!
Chiara got a slightly delayed start, but kept a good steady pace among with the group's long, strong strokes.  Her 8th position kept her safe from the melee at the first buoy, while the leader's immaculate one-stroke turn catapulted her to an massive lead. Chiara kept up with the group, maintained her 8th place, but safe from the chaos of the fighting mid-group paddlers.
How this girl could benefit if she could train regularly with this bunch, if she is already on their tail, just from training on her own!  There is still much to come from this young paddler.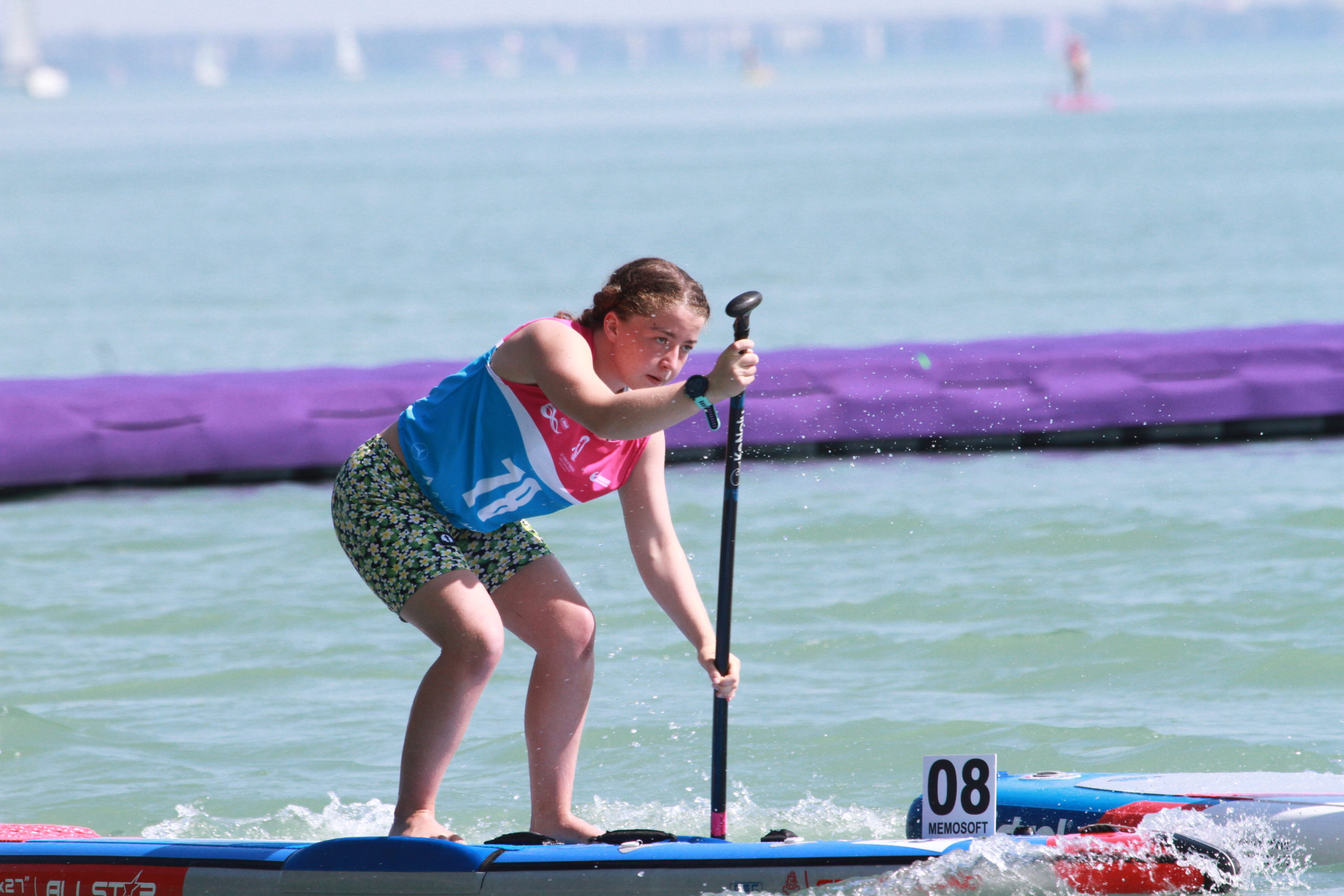 Posts and images will be shared on the SUPSA website as well as SUPSA's Facebook and Instagram page (links in footer).