The South Africans have stamped their presence on Poland's ICF World SUP championship with a blazing start in the sprint arena and a good few wins to take the paddling world by surprise!
Our first athlete in the Men's 40+ lineup today was Murray James. We were impressed at his solid start to international racing. He paddled really well, just missing a spot into the quarter finals. Murray's time was 1:09:37 (the winning time was 56:74)
Migael Terblanche was our first Junior boy to take the lineup and gave a powerful display of raw power, to win his first heat in 58:07 (by 01:23).
Cameron Tripney stepped up next to confirm the arrival of the South African Junior forces. He annihilated all in his first heat, winning in a time of 52:61 (by 05:36 over the nearest competitor).
Our Open Women's competitor, Evette Terblanche, just missed a spot through to the quarter finals by taking 7th place in her first heat (she was 13:32 off of the winning time of 1:02:29).
Our team captain, Elmari Renecle entered the Women's 50+ division, and went on to start with a magnificent win in her first heat. Her time was 1:08:98 (winning by 00:05).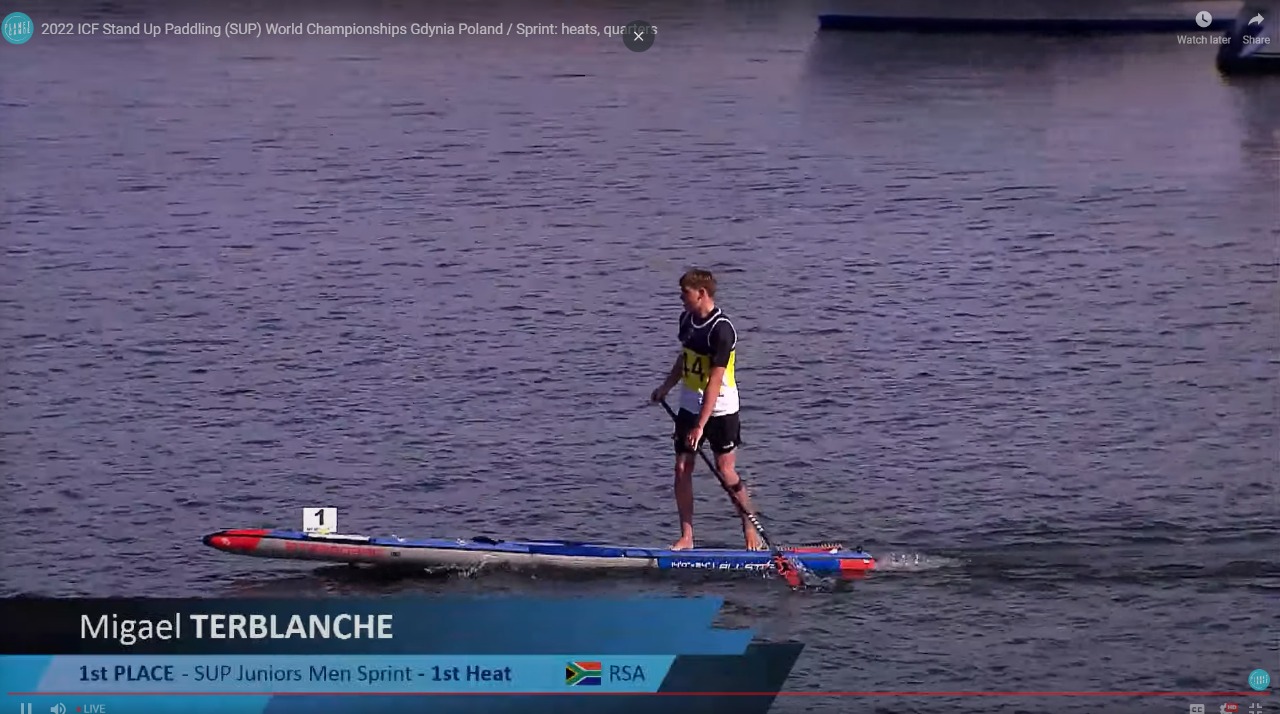 The Quarter and Semi Final rounds 
After a short break the first quarter finals were up – and both our boys featured in the same heat. They did not disappoint the adoring fans back home, Cameron won the race in a time of 53:58, with Migael powering behind him into 2nd place in a time of 58:05 (a difference of 04:47). The support groups online were going crazy and not a stitch of work got done at this point in the morning.
The lunch break was short and sweet, moving us on to the greatly anticipated semi-finals. The quick turnaround at lunchtime did not help the camera crews, and sadly resulted in only single camera footage for the first few races. It was hard to see Elmari's race finish as the camera angle just missed the line, but she ended up with a 5th place and a time of 1:08:41, only 1:23 off the winner's time of 1:07:18!
Cameron cruised to a quarter final win of 51:64 (beating his nearest rival by 00.26). The pressure was starting to mount.
Migael faced his quarter final, which was heavily loaded with some very seasoned paddlers, yet he finished with a truly respectable 7th place in a time of 1:01:24 (The winner hit 57:21)!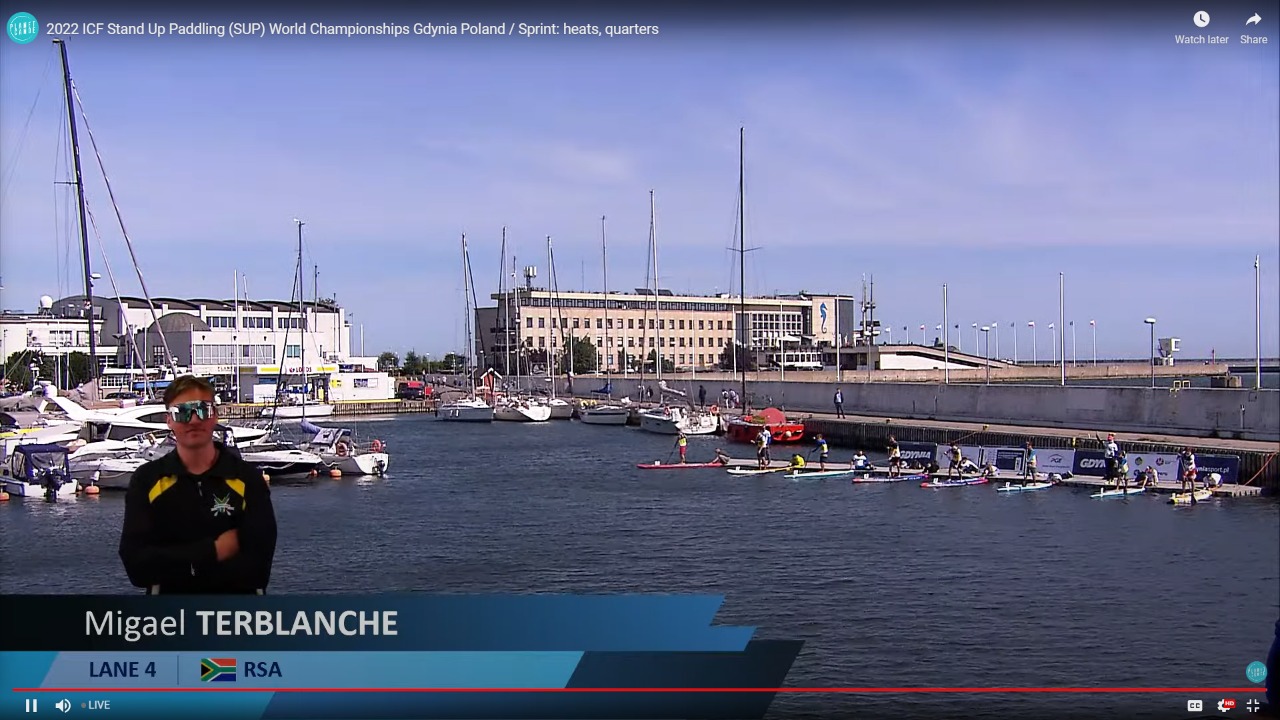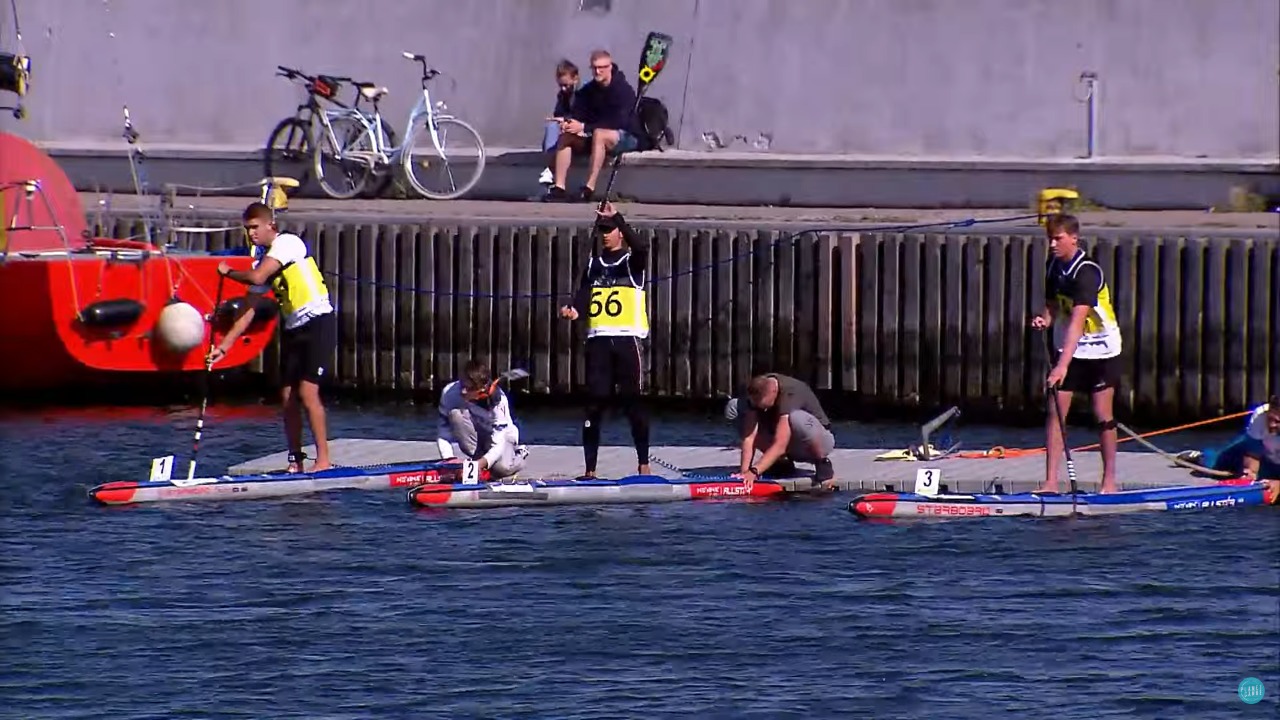 Hearts pounding all the way to the Finals
Unknown to the local supporters, Elmari had protested her results. We had not seen on screen, but there was interference (skew paddling out of lanes) by a nearby paddler. A great justice was done – the protest was upheld, and we were happy to hear she was through to the final! She had to do a running sprint just before her actual race too, as they only advised her at the last minute that she was in! We are so proud of her 8th place result of 1:09:62 (she was behind the winning time of 1:04:48 by only 5:14!)
The crowning race of the day was our Junior Boy Cameron's final. Here he set about finishing off his utter domination of the field in a mind-boggling time of 50:25, keeping ahead of the ever-increasing powerful field of boys by a healthy margin of 1.72. There was a stream of joy from the South African family, friends and fellow paddlers to salute this youngster as he achieved a goal he has worked on for the last few years, overcoming so much to GET HIS GOLD!
To all our athletes today – you did us more than proud. We could not have hoped for a better launch to your World Champs entries for all of you. You have been showing your mettle in the international field with stellar results! We salute you!