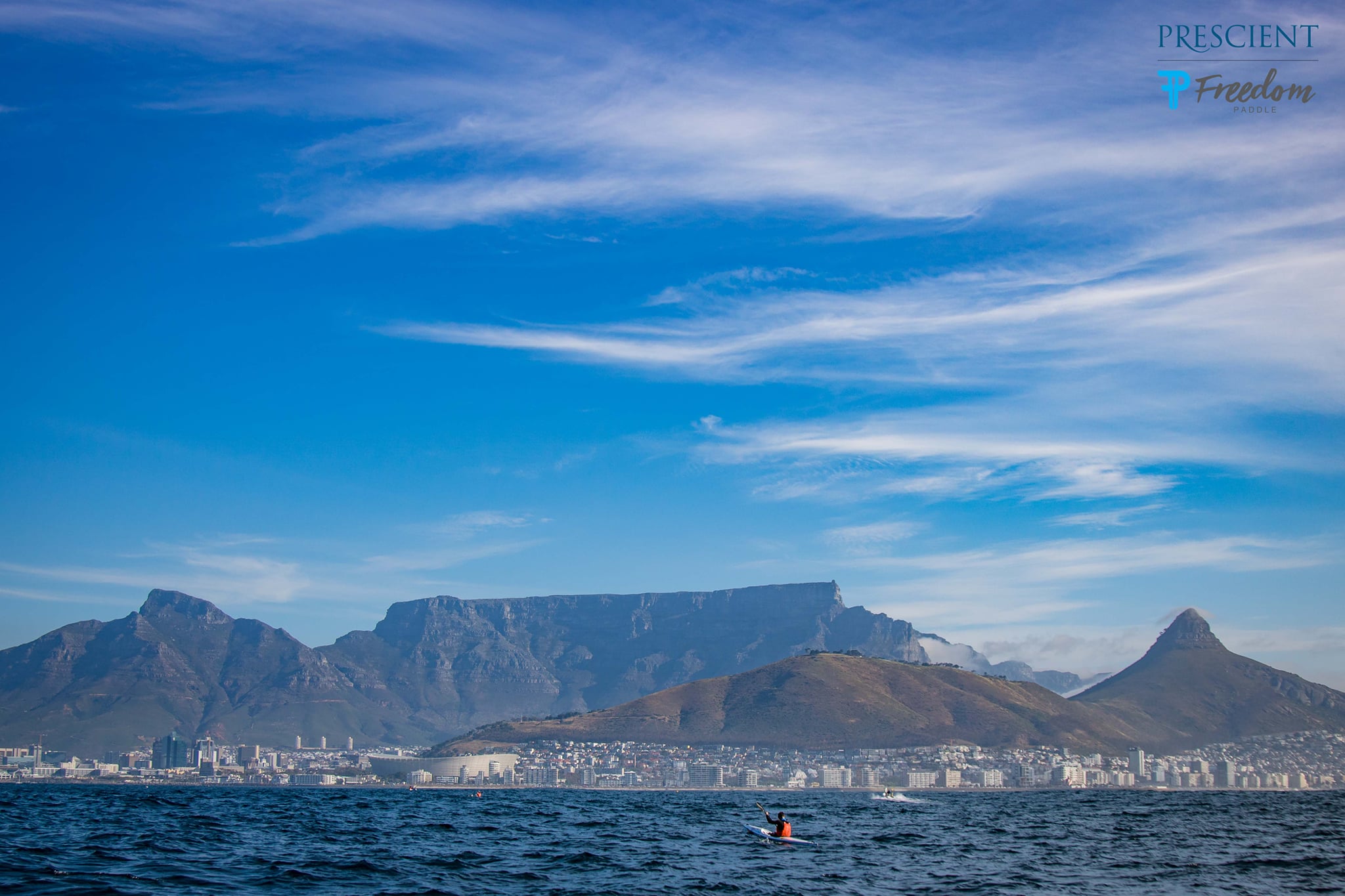 Words by Kit Beaton
The iconic Robben Island 28 km paddle took place on 24 October 2020.  The race organisers, Robin Tindall and Richard Kohler, welcomed Prone and Stand-Up Paddle into the longest official Prone and SUP race in Africa.  Fog caused a delay to the race start but as the morning creeped by, the paddlers could set off at midday into a glassy but mildly skuffy ocean with 8 ft swells.
The approach to the island at 8 km was rewarding with a beautiful spill off of swells wrapping the paddlers all the way around the island anti-clockwise. Jonny Lucas on Prone, Tom King and Cameron Tripney on Stand-Up Paddles led the pack into 8 ft Madibas.  Ethan Buncombe, showing huge strength, followed consistently with Ernest van de Riet proving his strength in consistency. At the 17 km mark, gutsy Cameron joined the support boat due to sea sickness. Tom and Jonny took the race home with Jonny getting the upper hand on Prone in very difficult side-on conditions.  Jonny finished in 3 hours and 47 minutes and Tom finished in sub 4 hours to make him the first ever Stand-Up Paddle to complete a Prescient Freedom Paddle.  Ethan stayed strong and confident dodging ships and clocking 30 km at 4 hours and 10 minuntes. Ernest was a testament to grit and is the second Stand-Up Paddle to complete a Freedom Paddle in 5 hours.  Craig Girdelston assessed the conditions and within the first 3 km he joined his support boat.   Alongside Steve Tripney, Craig boat assistance was deeply appreciated.
We look forward to a long lasting relationship with this iconic race. The next Freedom Paddle will take place on the 27th of April 2021 and apparently some paddlers are already training.