ICF SUP World Championships 2021: Day 3 of the World Championships in Hungary
Race Day 3 was a beautiful Saturday. The weather report read of a luxurious 25 degree air temperature, and the 18 degree delicate glassy waters of Lake Balaton mesmerised the commentators and public alike.
The Sprint finals were set as the first item of the morning. In the mayhem of pure speed and drive, some paddlers went a little or a lot too skew, while others went falling from their boards.  There were stressful moments all around as the adrenalin pumped over the 200 metre distance to see who would be the ultimate champions.
Our team were represented in the Men's 50+ Final B group by Gary, earning a hard-won 6th spot in an ever-toughening lineup. These men were true masters, with paddling technique and skills honed over the years, a mental edge developed through experience, and were not short on power either. They are the proof that age is certainly no handicap in this category!
Elmari's sprint in the 50+ Women's Final A group was sadly marred by two ladies alongside her paddling skew and into her path, causing much consternation for the supporters. In the true spirit of sport, she wrote this one off as not being her finest sprint race, and yet still placed a very respectable 5th position in the world!
Chelsea, her paddling style ever steady, worked her way to a good time and placed 8th in the Women's Open Final C group.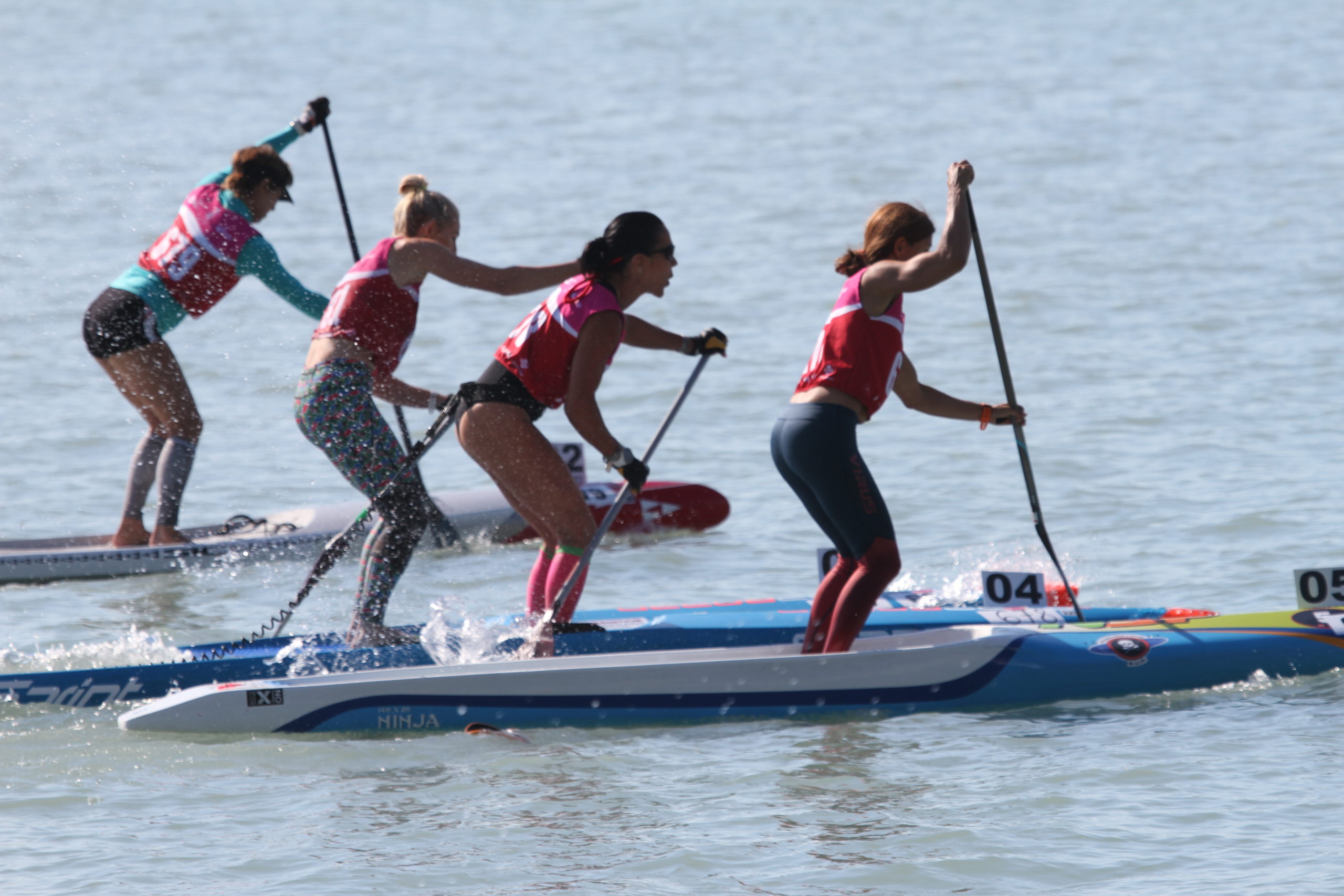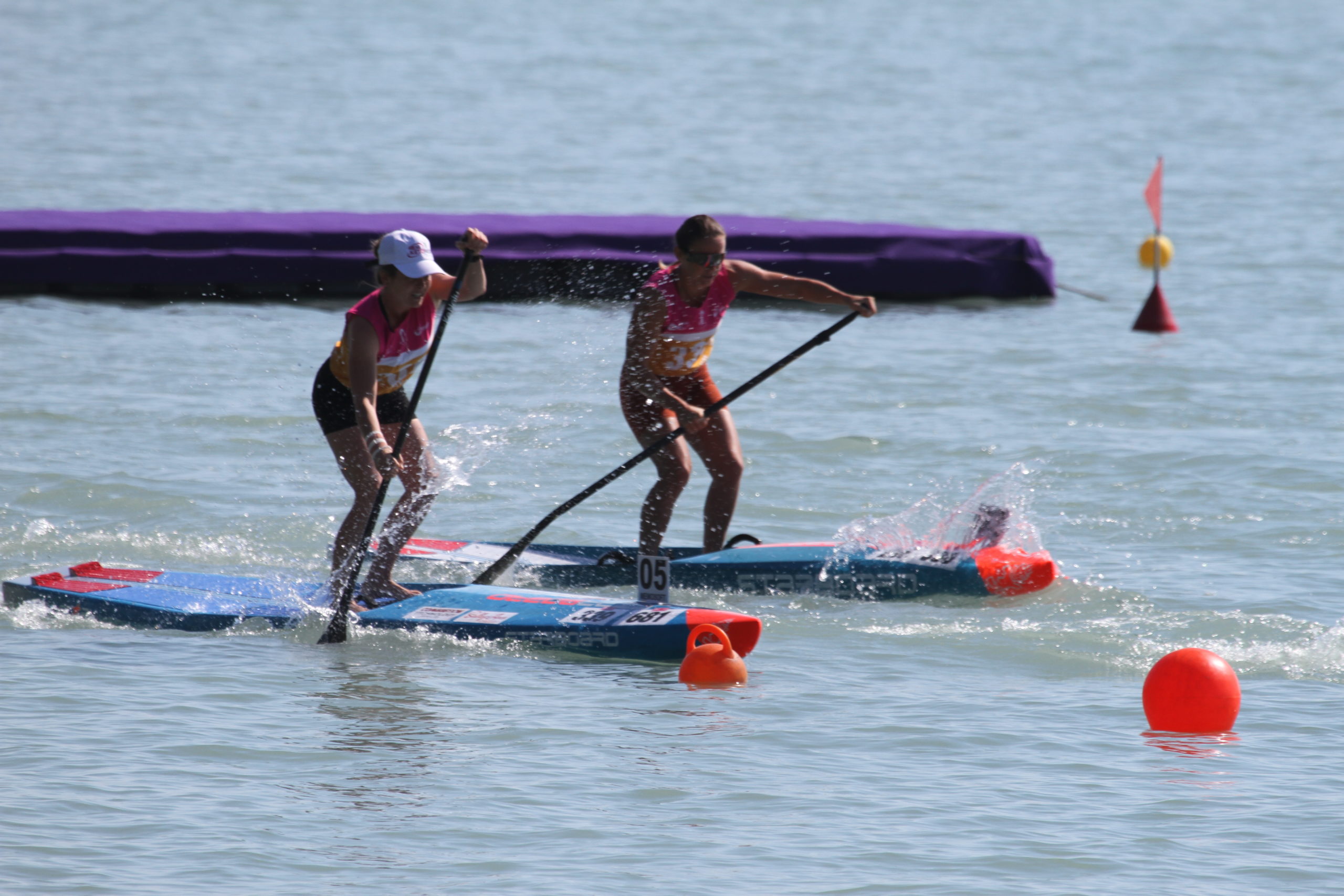 At midday, there was an inflatables race.  Our ladies Anja and Chelsea took up the challenge and paddled the 7km out-and-back course with style. Chelsea ended up surprising herself and the team by taking an incredible 6th place, and along with Anja was decorated with a medal for her part in the paddle. Well done ladies! 7km on an inflatable is no joke!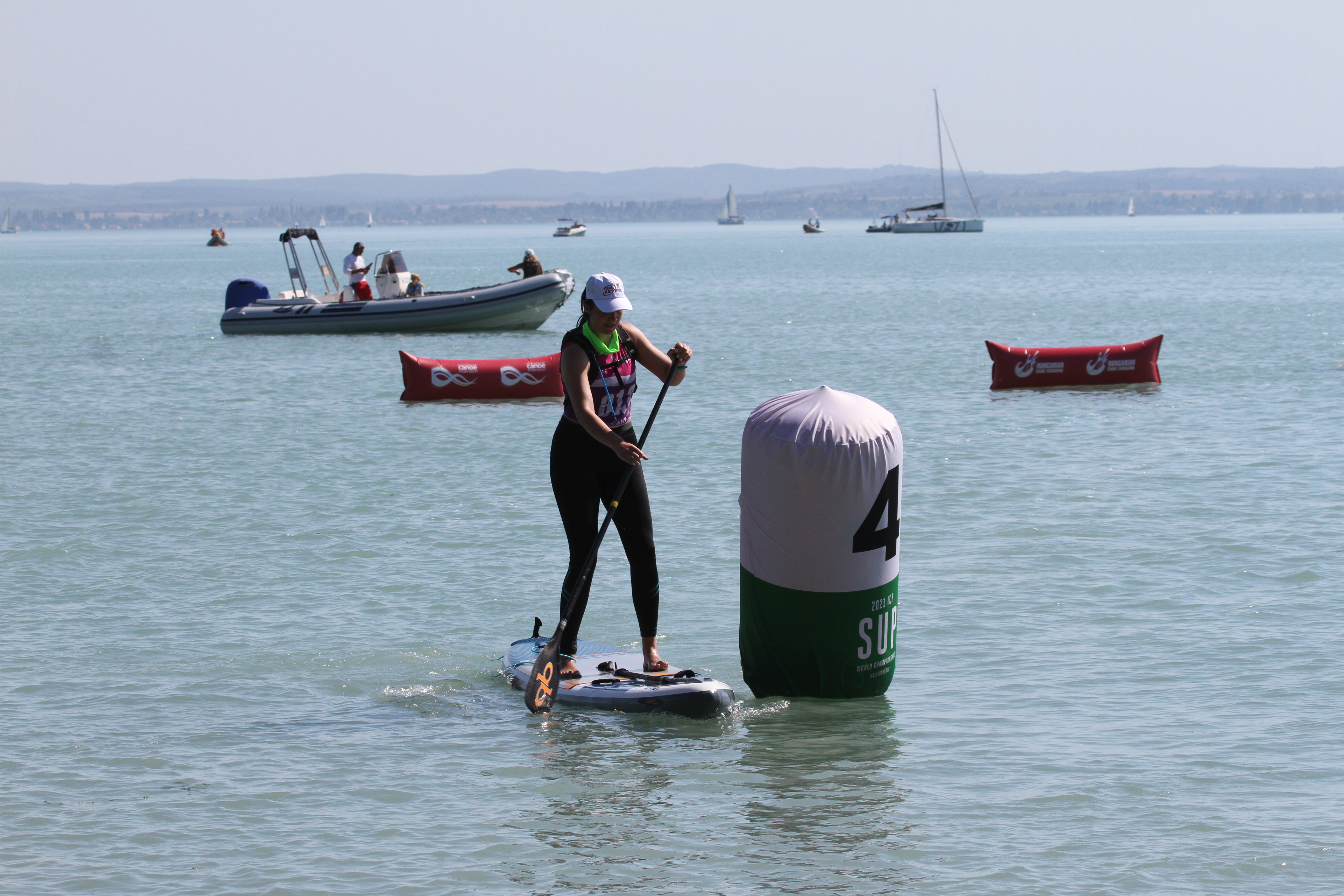 After lunch, it was time to wrap up the technical heats and quarter finals in preparation for Sunday.
These 1km technical races were a mixed display of sheer power and incredible skills at the buoys.  Some paddlers worked sheer magic with a one-stroke turn,  while others got caught in the fray and ended up either with boards between their legs or just took a fall around the turns. The ladies races proved to have more caution around the buoys, but they also showed great determination and drive towards each new section of the field. Our paddlers once again gave their all to deliver some favourable results.
Guy placed 6th in heat 1 of the 50+ Men's race, to move into the quarter finals.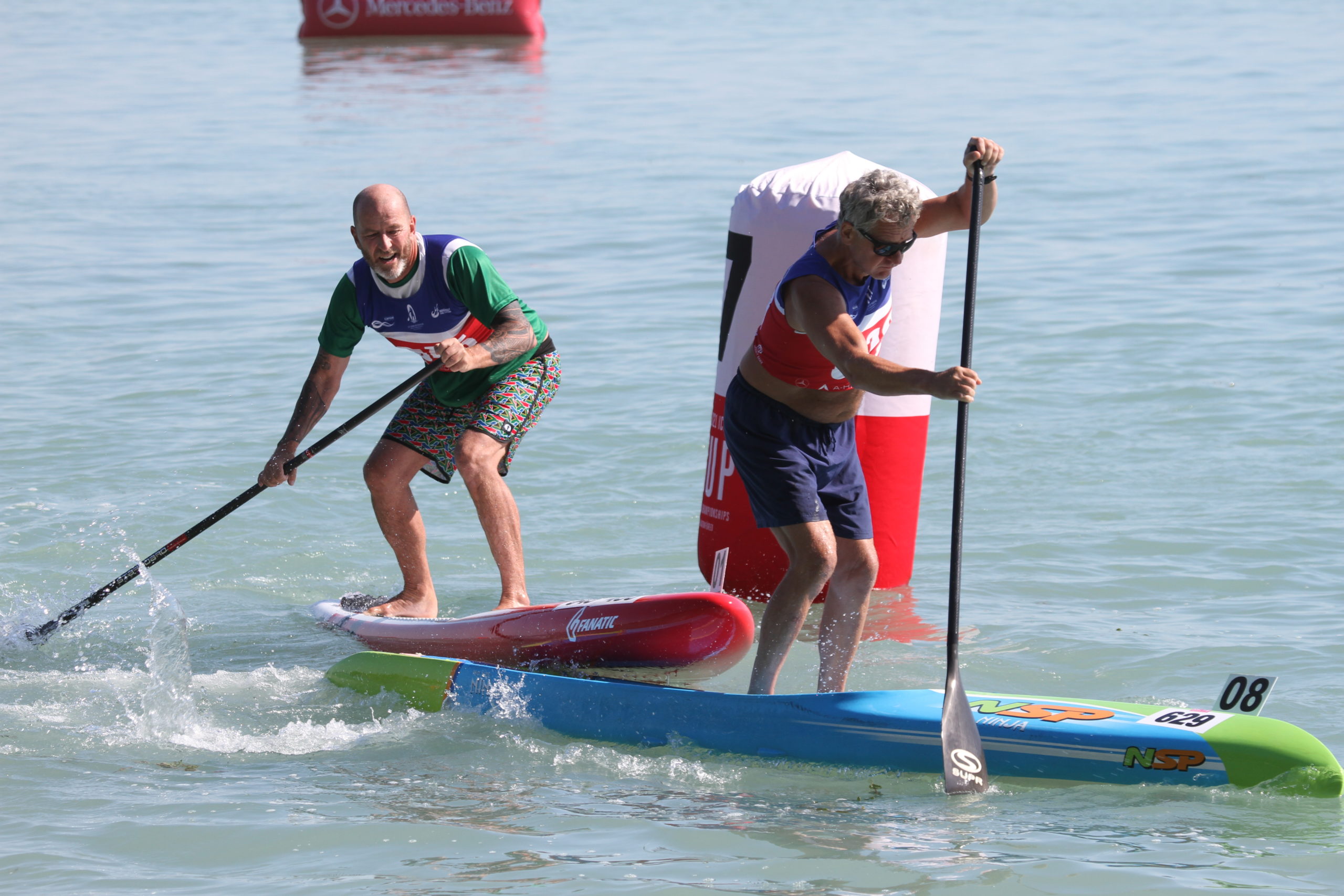 Gary won heat 2 to the great delight of all supporters – and caused great joy, especially after some of his previous races where he had just lost by small margins.
Rob took on the 5th heat of the 40+ Men's Technical Race. He  handled his board and buoy turns with stability and consistency.
It is good to note that our paddlers did not all have the luxury of using their own familiar boards, but instead were using rented equipment, due to the exhorbitant cost and high risk of board transport overseas.
Rob did not make it to the next round, but this was truly a fantastic experience-gaining trip and race for him. What an inspiration to paddle amongst these great men!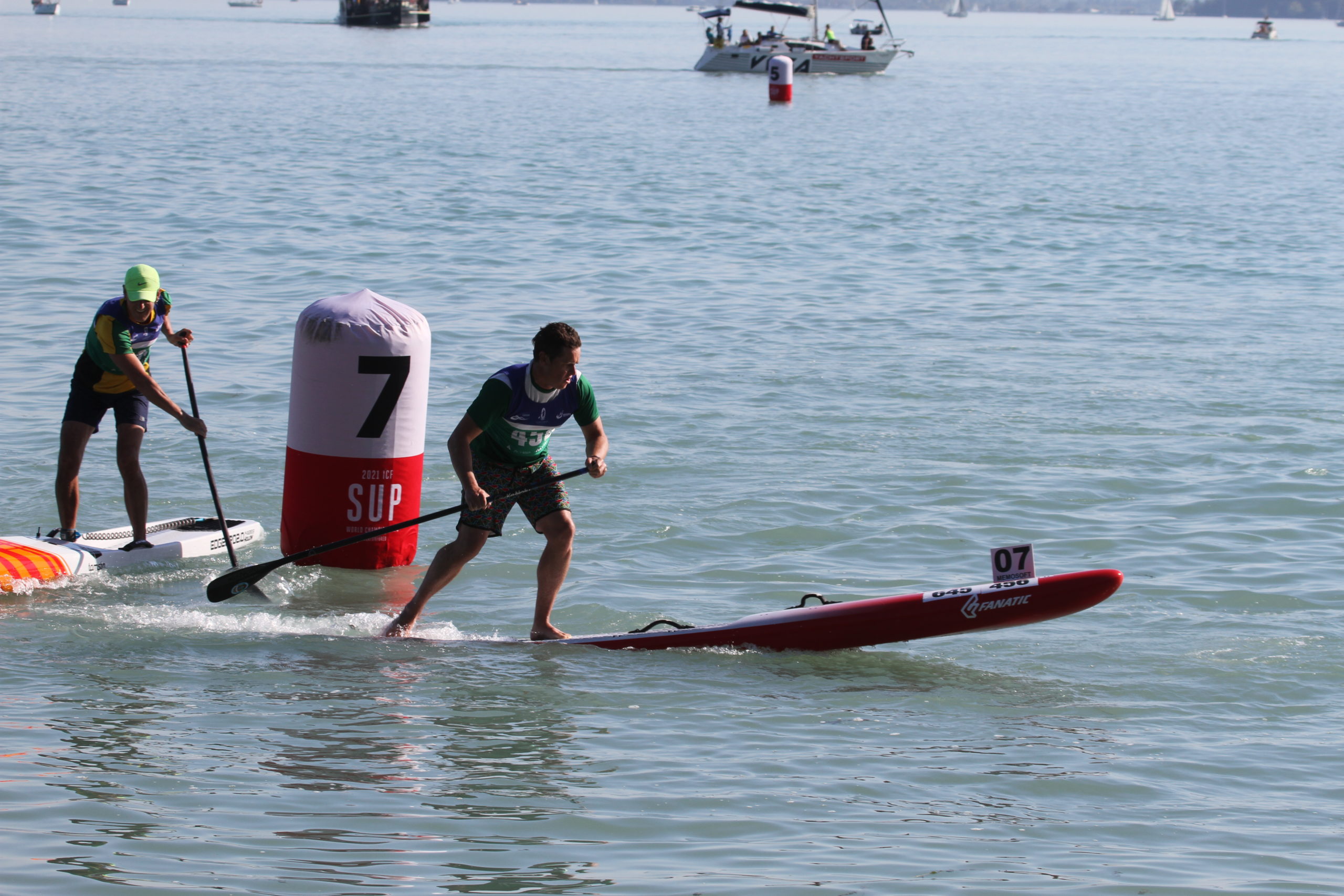 Elmari placed 2nd in the 50+ Women's Technical Race. She showed long, strong strokes and consistency up to each buoy, almost losing her place after going wide at buoy 3, then put in a massive effort and regained it. She maintained a solid second place for the remainder of the race to the end, granting her a spot in the final A group for Sunday.
Evette placed 5th in the Women's 40+ Technical Race heat 2, only 50 seconds behind the winner  – a good indication of the intensity of the race.  Consistent, careful yet strong paddling in her group set a steady pace, and Evette finished comfortably in 5th place with the sounds of the vuvuzela cheering her on to the very end.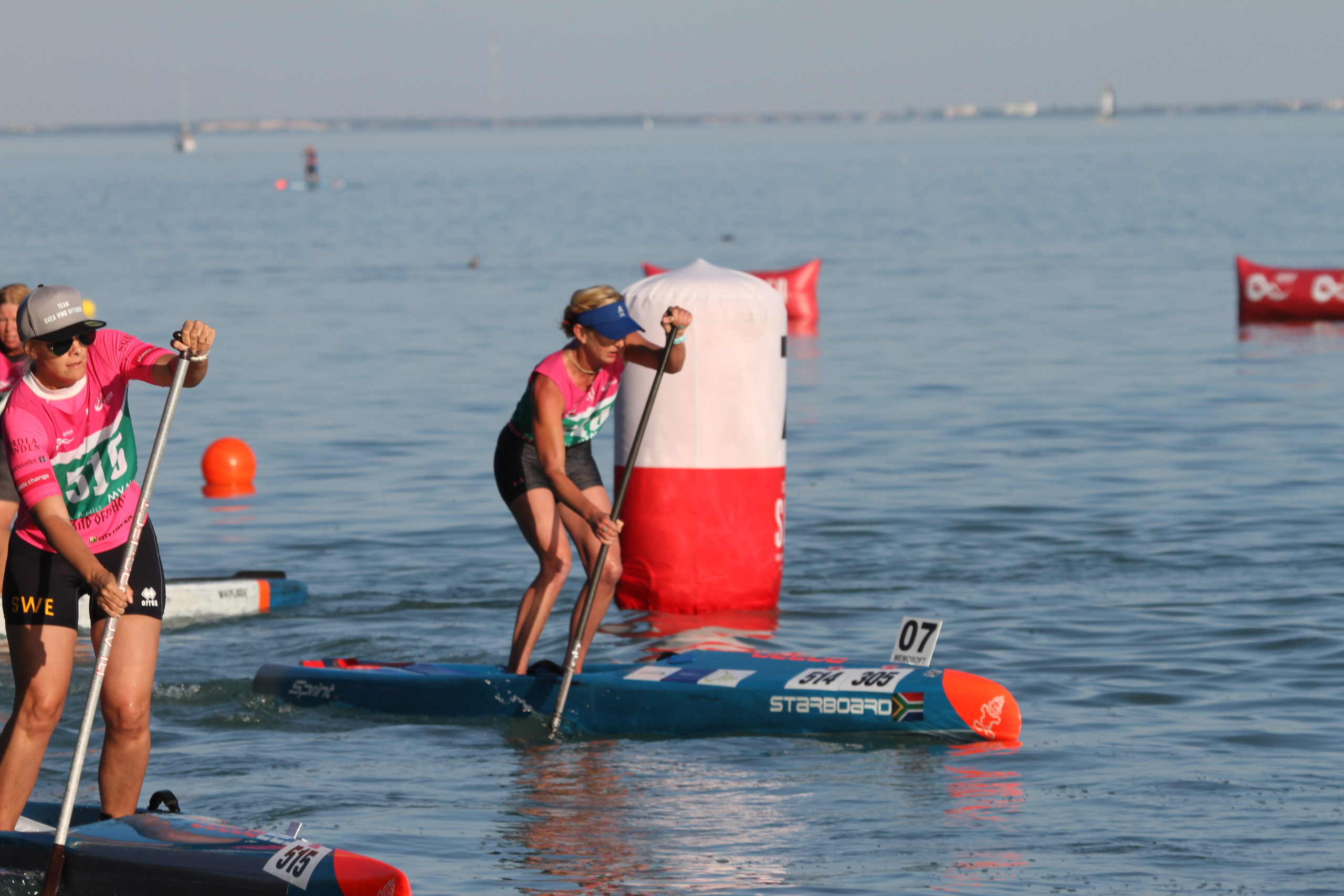 Chiara placed 3rd in the Junior Women's Technical Race heat 2 within an ever-toughening group of girls.
The inflatable boards used by the Juniors definitely generate different paddling speeds and they require great handling skills in a technical race – but this did not deter the young ladies at all.
The live commentary at the time was very interesting as to how they were using inflatables to make the sport more financially accessible to new paddlers, but were open to comment on the matter.
While this discussion was happening, the girls had settled into a steady train around the buoys and Chiara was moving up in the ranks. A stumbling paddler at buoy number four gave Chiara the chance to move up into 3rd place, and she showed the grit and determination needed to keep it right to the end, with a clean finish in 3rd.
Gary placed 4th in his semi final 2 for the Technical race, paddling against men who were at least 10 years his juniors, and giving them a good run!
Guy placed 6th in his semi-final, earning a place in the Final group C for Sunday.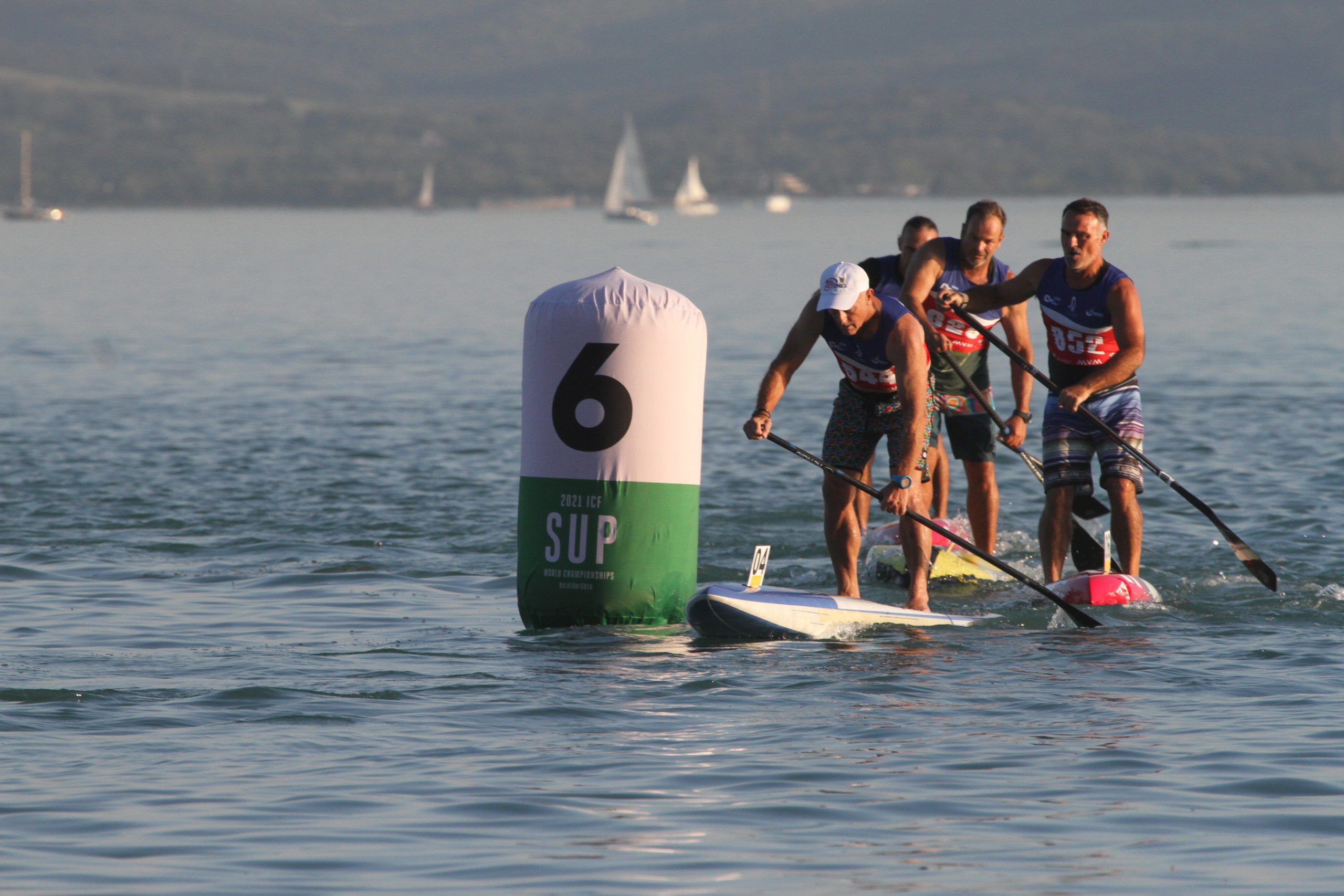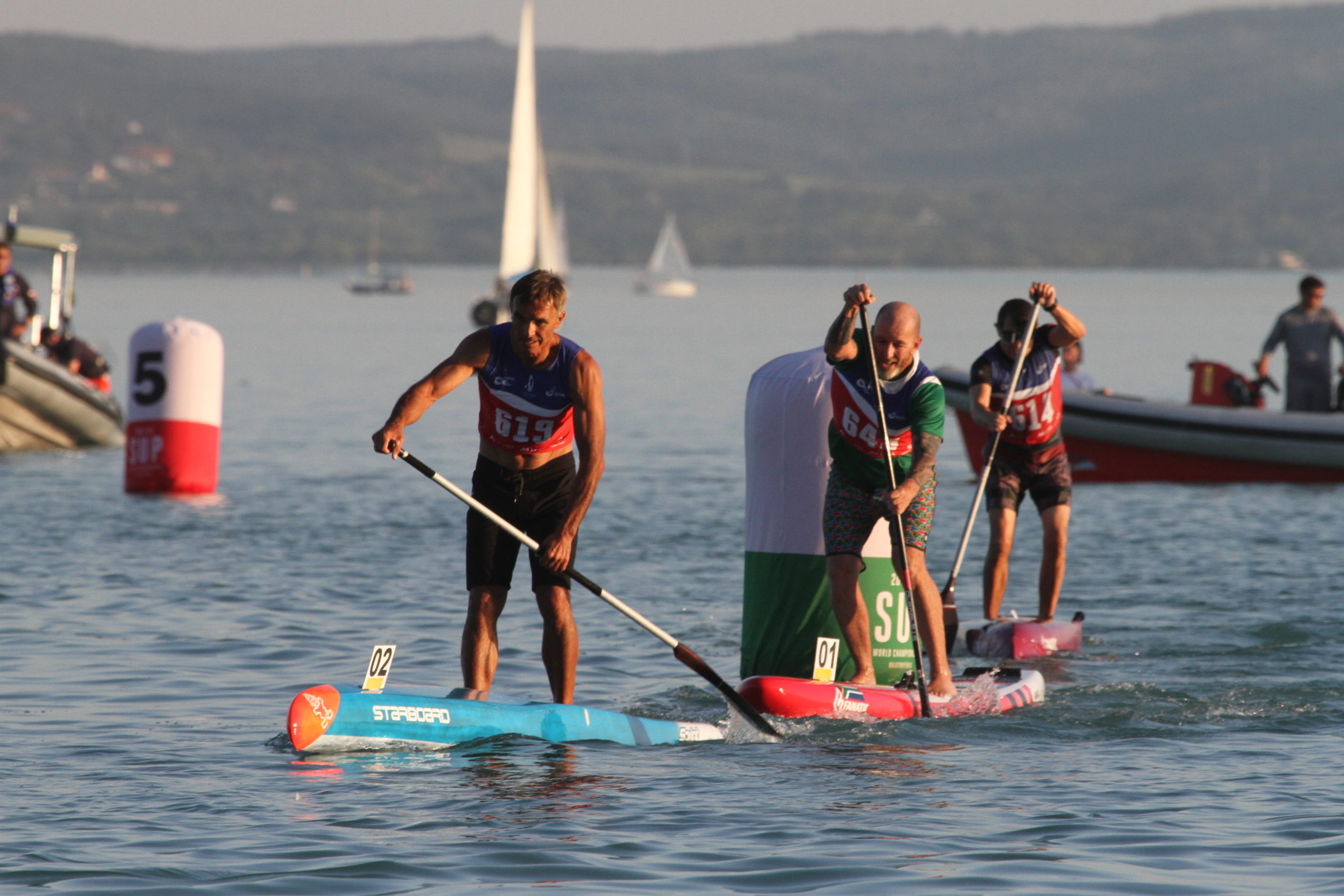 Posts and images will be shared on the SUPSA website as well as SUPSA's Facebook and Instagram page (links in footer).