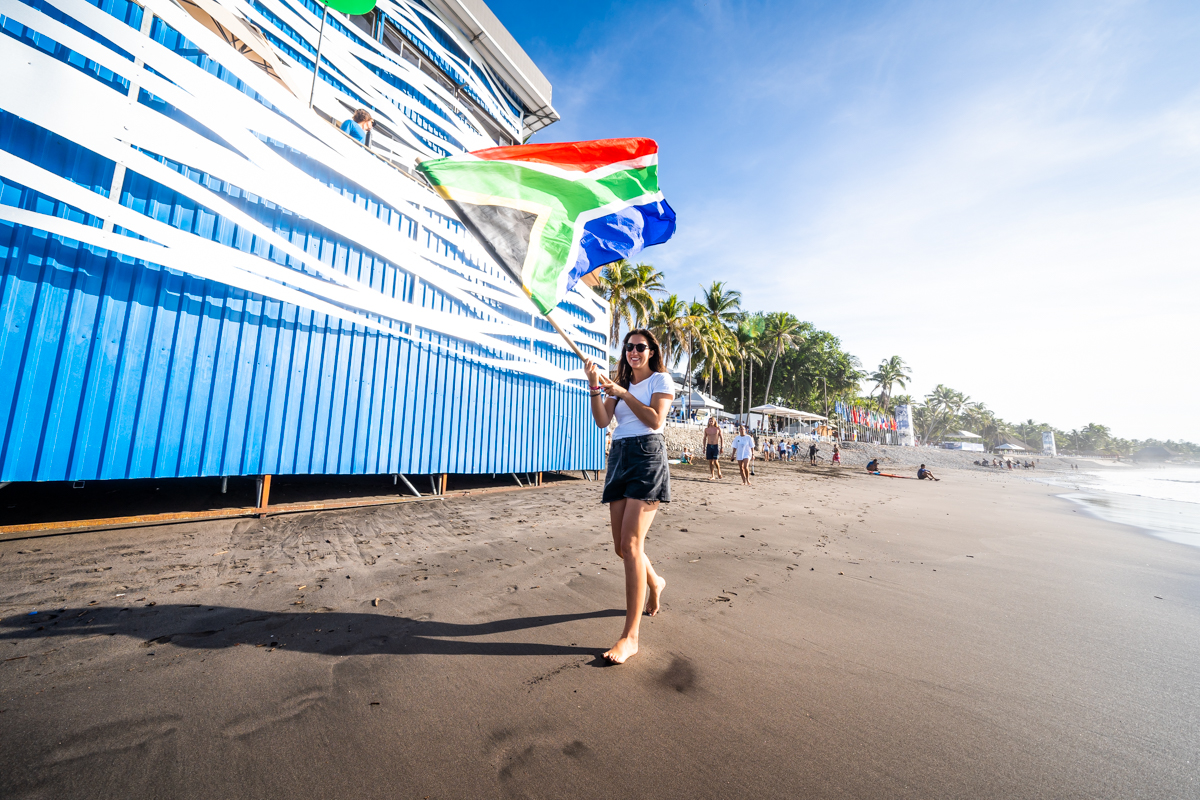 Surfing – Day 3
Great excitement filled the breakfast room with Matt, Dylan and Khara taking to the waves again. Dylan was up in heat 2 and Matt in heat 3, while Khara would showcase her skills thereafter. Dylan had a great round with scoring a 5.37 on his second wave and a 6.10 on his fourth wave. The waves were cooking and allowed Dylan to surf them from the back to the front. With great excitement – Dylan exited the water with the top score in his heat. 
Little did we know that the next heat would include top wave scores from Matthew Maxwell from South Africa. After a 5.40 on his second wave, Matt scored a 4.40, placing him third behind Daniel Hughes. Matt waited for the last seconds in his heat, and with a shock to Daniel's system, already being interviewed for his second spot, Matt got onto his last wave – 30 seconds from the end – and landed every turn from the back to the very end of the best wave up until then. He scored an 8.73. The vuvuzelas reflected these scores with great and loud blows. 
Khara's heat was coming up and she entered the water with a great excitement after the previous day's great heat. Khara had a tough heat with Candice Appleby and Lara Claydon from the United States of America and Aline Adisaka from Brazil. Khara had difficulty in getting waves while the others had priority with good sets that came through. She surfed until the end but was not able to place in the top two in this repo round. 
It was time for repechage round 4 for Dylan and Matthew. Matthew was up against Zane Schweitzer from the United States of America, Gabriel Salazar from Chile and Juan de los Reyes from Spain. Matt scored on great waves throughout his heat, with a 4.23 on his second wave. With great disappointment – the commentator announced an interference call after wave two – saying that Matt was warned that he was prone paddling more than five strokes and received the interference penalty on his second warning. This was massively disappointing especially with his fourth and fifth wave scoring 6.2 and 5.10, which would've placed him in second place but knocked him down to 3rd because of the penalty. This meant the end for Matt's surfing at Worlds. Great surfing Matt! 
Dylan was next and up against Clement Roseyro from France, Guillermo Carracedo from Spain and Jefferson Tascon from Columbia. With some difficulty in finding waves, Dylan scored 5.63 and 5.10 on the two waves that he caught. It was two great waves but was unfortunately not enough to move him from third place.
And just like that – El Salvador Surf City 2019 ISA World SUP and Paddleboard Championships was done and dusted. So what did we do next? We had burritos, organised a bus, packed our boards and found our way to Playa Punta Roca where there were a couple of locals and fun waves. Great fun was found, here. We ended the day with burgers and pasta at our favourite restaurant with the Danish Team. 
What is left for today? Closing Ceremony at 1 pm on Sunday and a Closing fiesta at 6 pm. You can also watch the surfing finals this morning (afternoon in South Africa), which has just started.
Just a massive thanks to Ben Reed and Sean Evans for the great photos throughout the World Championships.