Only three of seven paddlers stayed the full Freedom Paddle course. Conditions were
gnarly
enough to chase away even some of the very best.
Due to this weather, the SUPS were prevented from rounding the island, but still did a hefty 22km there-and-back course, just 5kms short of the full route. 
Sinda's long paddle was filled with a variety of emotions:
"It was intense at the beginning – everyone bailing out ! When I looked behind me, there was no one – no boat, no one! Then the fog started AND there was rain.
I couldn't see the island and I was going in the wrong direction because there was no one in front of me, no one at the back of me!
I couldn't see Cameron because the swell was so big! It was like mountains, you know – it just covers.  You can't see anything, you can't see anyone…. There were big waves breaking on the island. I could actually see it…. I paddled for like an hour 45 minutes, but I couldn't get to the island. I could see the lighthouse, but I couldn't get into it, and I was like, "I'm just gonna turn around."
So I told Steve (on the safety boat) and he was like, "NO!"…. He told me I'm so close – the island was 3km away from where I was!
I got to the island, and saw some penguins on the way – that was one of my wonderful experiences in the race.
I even saw a bus – just imagine! I'm like, "Oh! How did they get the bus there on Robben Island?"
Anyways, I turned around and as I was paddling back, I saw Rudy. I told him, "Bro' you already close, you just need to go there and come back."
On my way back it was intense. It was not fun at all because the wind had died down, so we were not doing a downwind, it was like side swell…..I can't measure it, but I know it was big. Side chop and there was no wind , so we had to paddle back you know!
Yah, it was TERRIBLE, in one way, it was terrible AND hectic at times." (Sinda Simoni)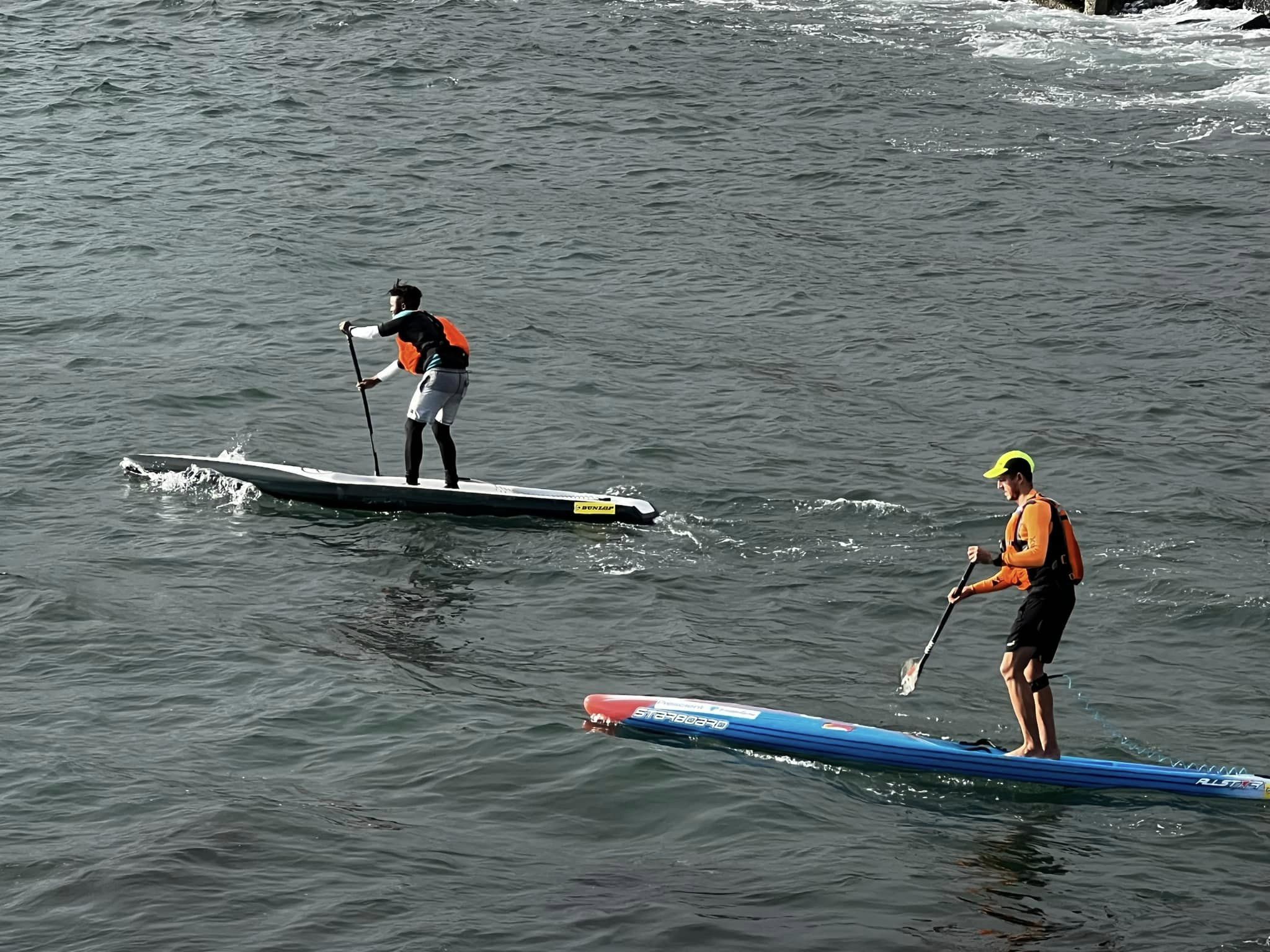 Rudy, as the newest SUP paddler, took on a massive task by entering the long course:
"The conditions were trying for sure, as you know, most of the field dropped out.
I just kept pushing – at one point I had to check my watch to see if I was still moving forwards, and I always had to check behind me to see if I was getting anywhere, 'cos a lot of times it just felt like I was paddling on the spot.
A lot of persistence and just having casual chats with the canoeists as they came past…. I was definitely a back marker and the slowest out there, but it was great. It was good fun and I eventually got to the island and we headed back.
I can't believe I lost my legs on the way back! It was just really, really so difficult, and my legs were the ones that went first – cramping, just from keeping upright on the board.  I can't believe or imagine what Cameron and Sinda went through because they were obviously up on their legs a lot more.
It was definitely the hardest paddle I've been on and can't wait to join the next one. I hope that it will be a little bit easier. It was super fun! Loved the camaraderie, loved the support. A lot of support there – that was very cool."
(Rudy Kindler)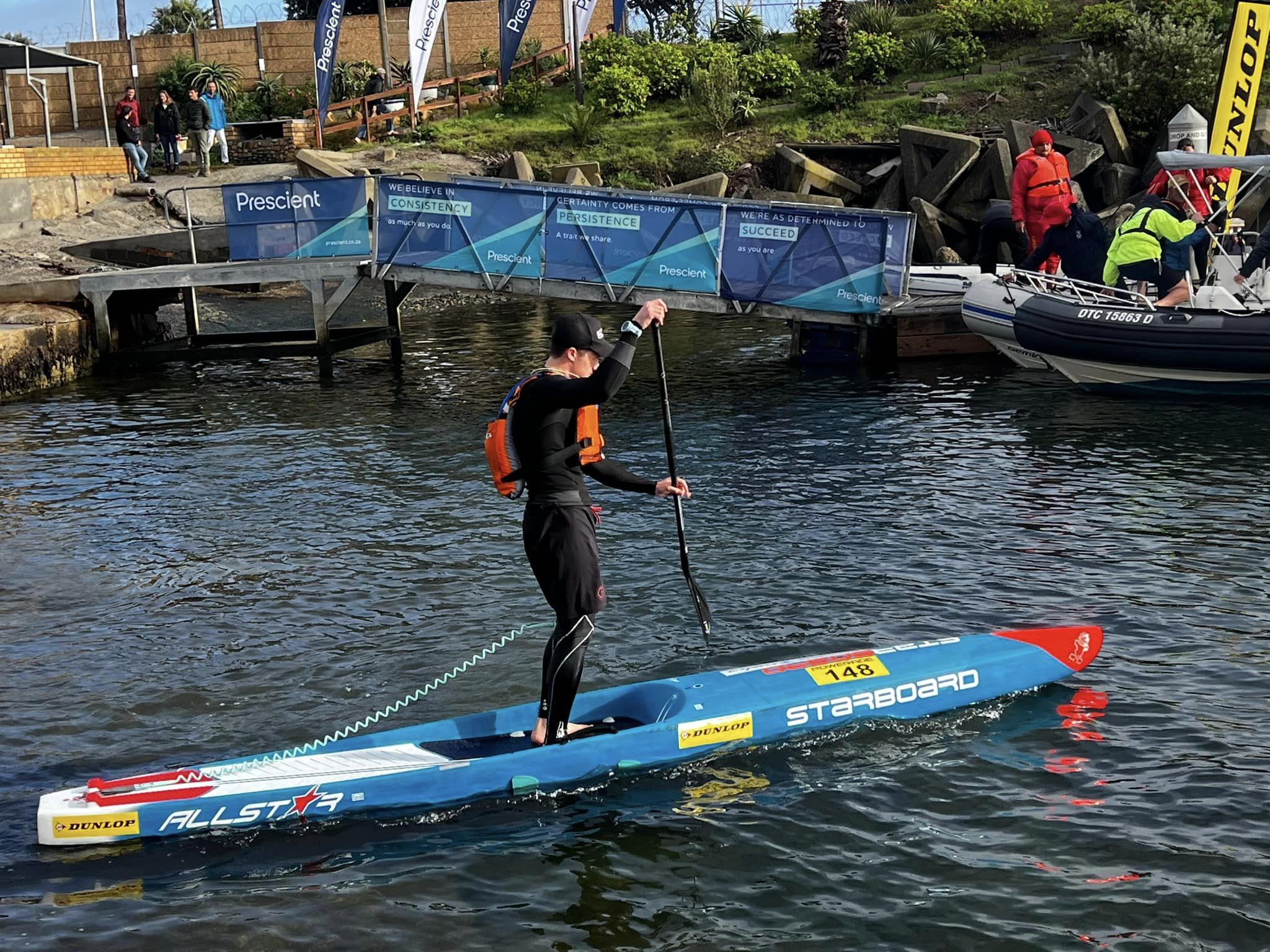 Cameron's story echoes his journey to World Champ status – waiting, and being ready for the right time:
"I've been keen to do this race for a while, but the first time I was too seasick, the next time I was sick, then I had a knee injury – so it's been a long time.
When I got back from Italy I was definitely in a really good mindset, especially after going against the standard those guys race in. I've found my new self in paddling: to push past my limit, which I never thought I could.  I did lots of distance paddling with Rory, and was just excited to get on the water and paddle.
Once the race eventually started, it was a gruelling 10 or 11 kilometres towards the island. You don't get much worse headwind than we had – almost 30 knots, with 3-4 metre big side swell. With the added surprise of mist and rain towards the island, even making it there was an achievement!
When my Dad came past and said some paddlers had pulled out, I thought, "I'm really alone now." I got a pretty good lead in the start, and was in the mentality to paddle by myself and to my best ability. I did not want to draft anyone or paddle with them, but just to stay in my own bubble, really. I went off on my own mission. My dad who was in the safety boat, also had to look after the other paddlers,  so he was constantly going up and down. 
There were moments I was stuck out at sea in 4m swell, wind, rain, no one around me… I literally felt so lonely.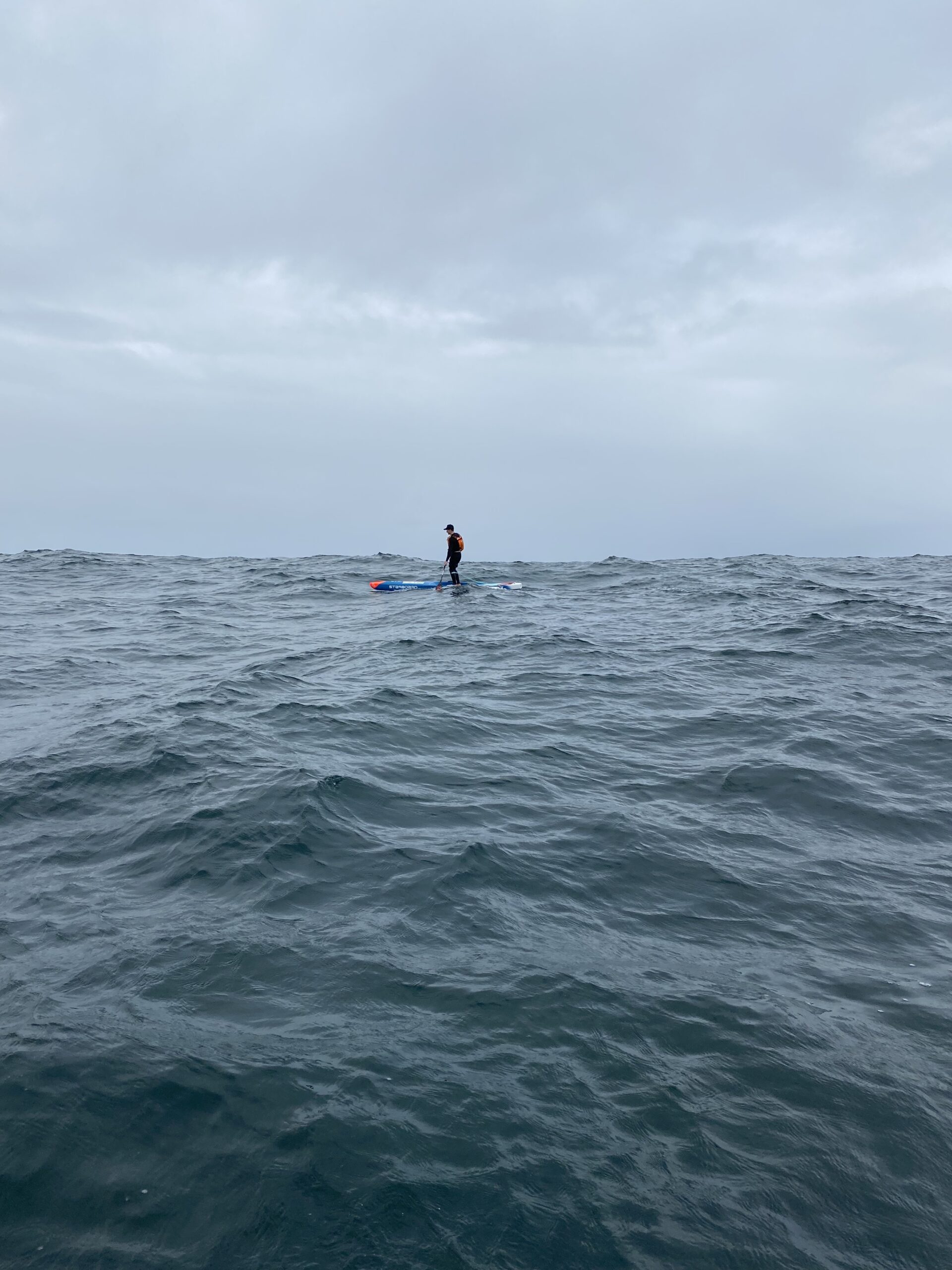 I was feeling a little nervous, but was so zoned in. I wasn't going to let anything stop me. Let me just get there, and I'll treat it like a downwind home and finish strong.
I got to the island after about 2 hours of paddling in the crazy headwind.  I was already so sore and tired, but my mind just took over.
I didn't feel like I was paddling – my mind was just doing its work.

It became like an emotionless paddle. 
On the way back it was just a home run from there.  My dad stuck with me the whole way, which is amazing. Catching as many bumps as I could, like it was just a 10km.  As if I didn't even paddle 10km into the wind before, I  treated it like a race on the way back. I was just enjoying myself.  My legs, however, were cramping and aching like never before from all the balancing. I fell off quite a few times, but I was on a 23″ wide board.
I finished really strong and was greeted towards the end with a nice crowd, everyone cheering. I didn't really know how to pace an over-20km race; so I just treated it like it was a 10km race. I had a pretty good pace for that distance.
Great race! I hope to do it again next year, hopefully with some great conditions!" (Cameron Tripney)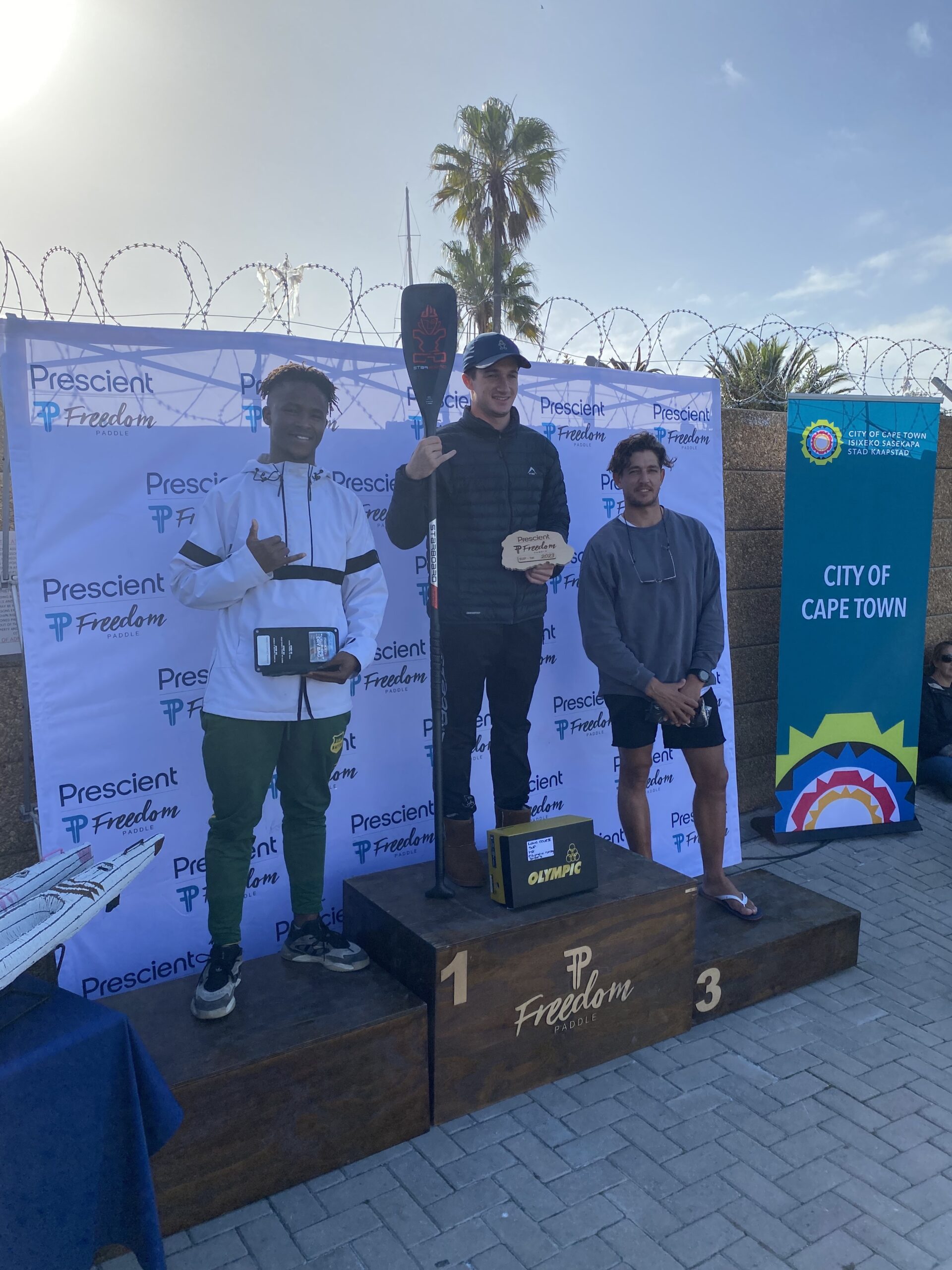 These race descriptions give us a great summary of the event. If you know the paddlers, you'll hear them exclaiming as you read it:
"The race was terrible!  It was hard! It was hectic! It was intense!  But I told myself I'm gonna do the race, no matter what it takes. I'm gonna go to Robben Island and back." (Sinda Simoni)
"Hopefully I'll recover some time this week. It was really such an experience." (Rudy Kindler)
"It was a great, great day and this was one hundred percent, by far, the toughest thing I've ever done! Not even just in paddling – just the toughest thing, mentally and physically.  When I got out of the water I was broken; I was dehydrated; I was sore; my vision was messed up. I just didn't stop paddling, so it truly showed me what is possible and what's not. You can really push your body past the limits to what you think you can't do." (Cameron Tripney)
"Absolutely brutal, really tough!  It's really amazing that Rudy, Sinda and Cam made it to the island and back. Once you got closer to the island you were in the lee of the wind and the swell, so it was ok.  It was the two and a half hours that it took to get there which is absolutely horrific, so well done!"  (Gary Van Rooyen)
"Seeing Sinda and Rudy finish, broken and relieved was the best sight ever. So proud of these paddlers. Cam made it clear why he is such an accomplished paddler – swooshing through wind, swell and chop like a hot knife through butter. (Evette Terblanche)"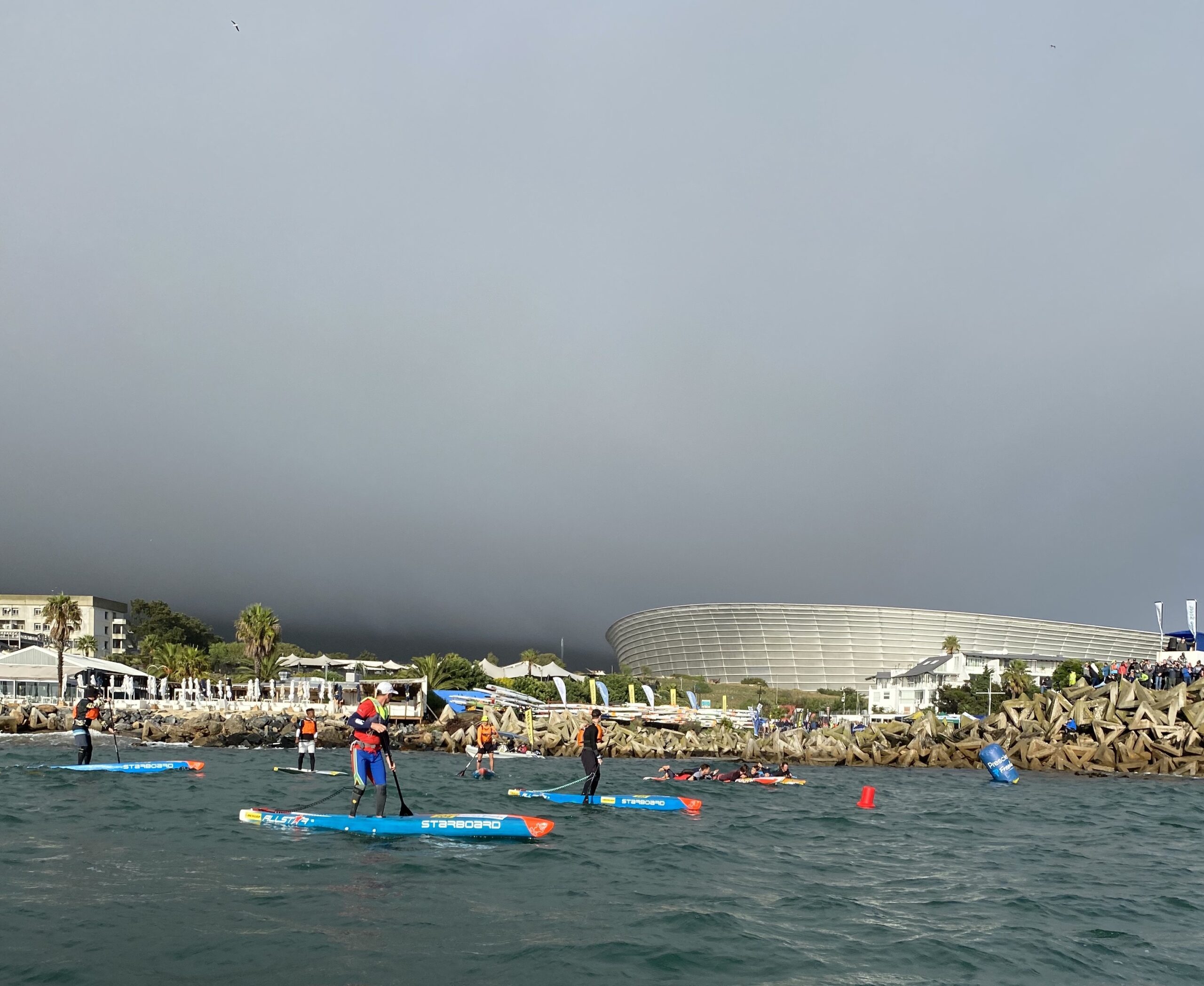 This is why we paddle: the joy, the pain, the thrill of the chase and the challenge! Surviving nature's lashings becomes another tale to store in our mental paddling journal.
Always keep in mind that the ocean (or any body of water) is not a force to be overcome, but an element to be respected – don't paddle outside of your abilities, but work on them to become stronger.
Paddle safe, paddle strong!
Bravo, Freedom Paddlers!
All photos courtesy of Prescient Freedom Paddle photographers.