As Freedom Paddle Race Day became an impending reality, a potential squall opened the floodgates for the usual pre-race jitters.
The race organisers took it all in their stride, changing tactics and issuing conditional lists. This was done to help the 410 registered paddlers decide if they really were racing material suited for a stormy paddle.
Despite numerous drop-outs, a few seasoned SUP and prone board paddlers decided to tackle the challenge. Here is their feedback, to give you a true taste of participating in this iconic race.
The hype starts at registration, on the day before the well-organised race.
Due to limited parking space the paddling craft are all dropped off at and left on racks overnight. This helps reduce chaos on race day. Paddlers sign in and get a very generous goodie bag.  All they need to do on race day, is arrive, do the safety check and go paddle!
"My hubby helped me out with dropping my board etc….. He said everything was pretty slick and well organized. I was happy with the booking process and the comms etc."  (Gaby Nordgaard)
Great goodie bag. Loved the Prescient dry bag which is useful for all water based sports. Registration was super efficient and quick. (Lynne Beachy-Head)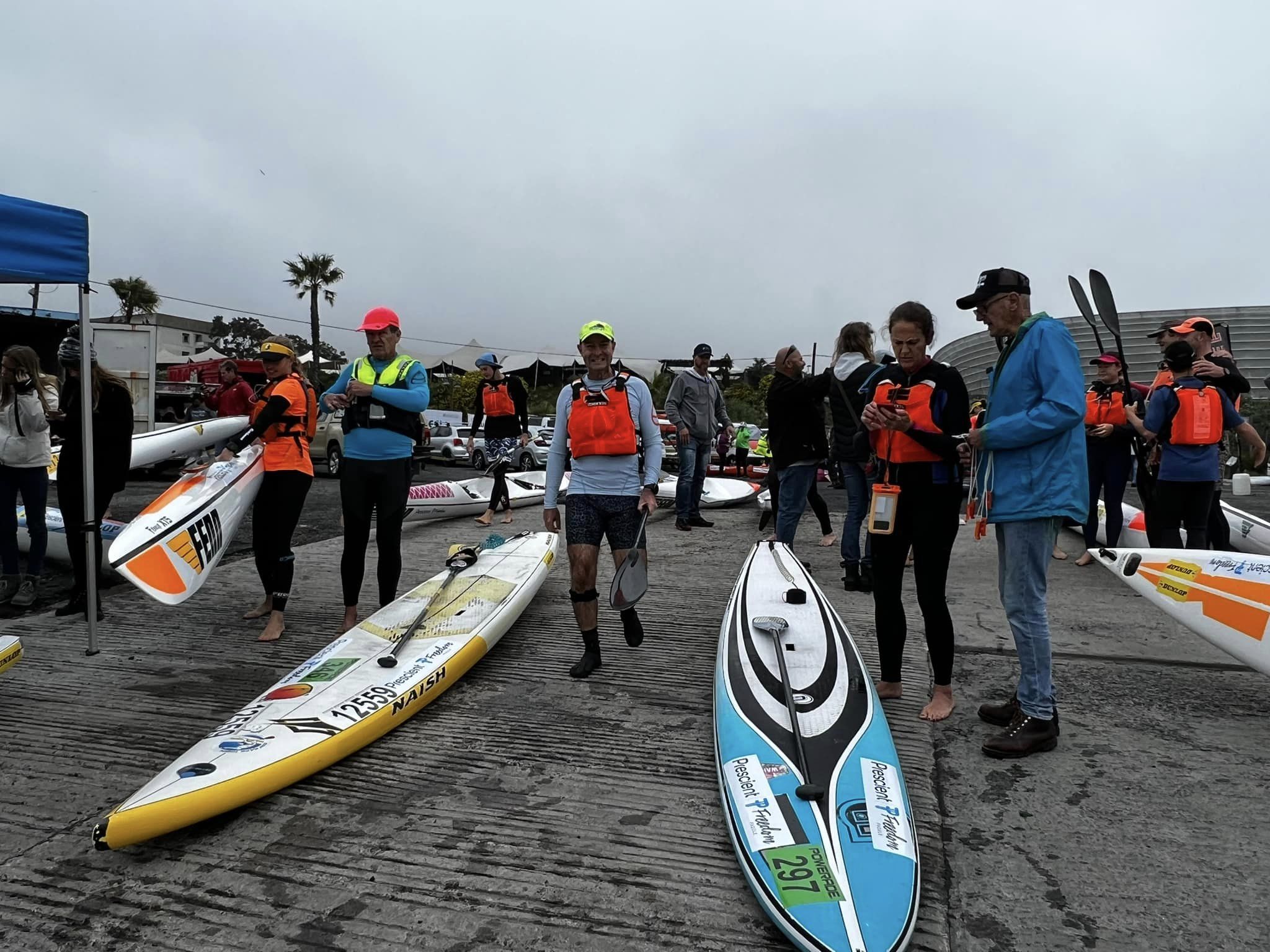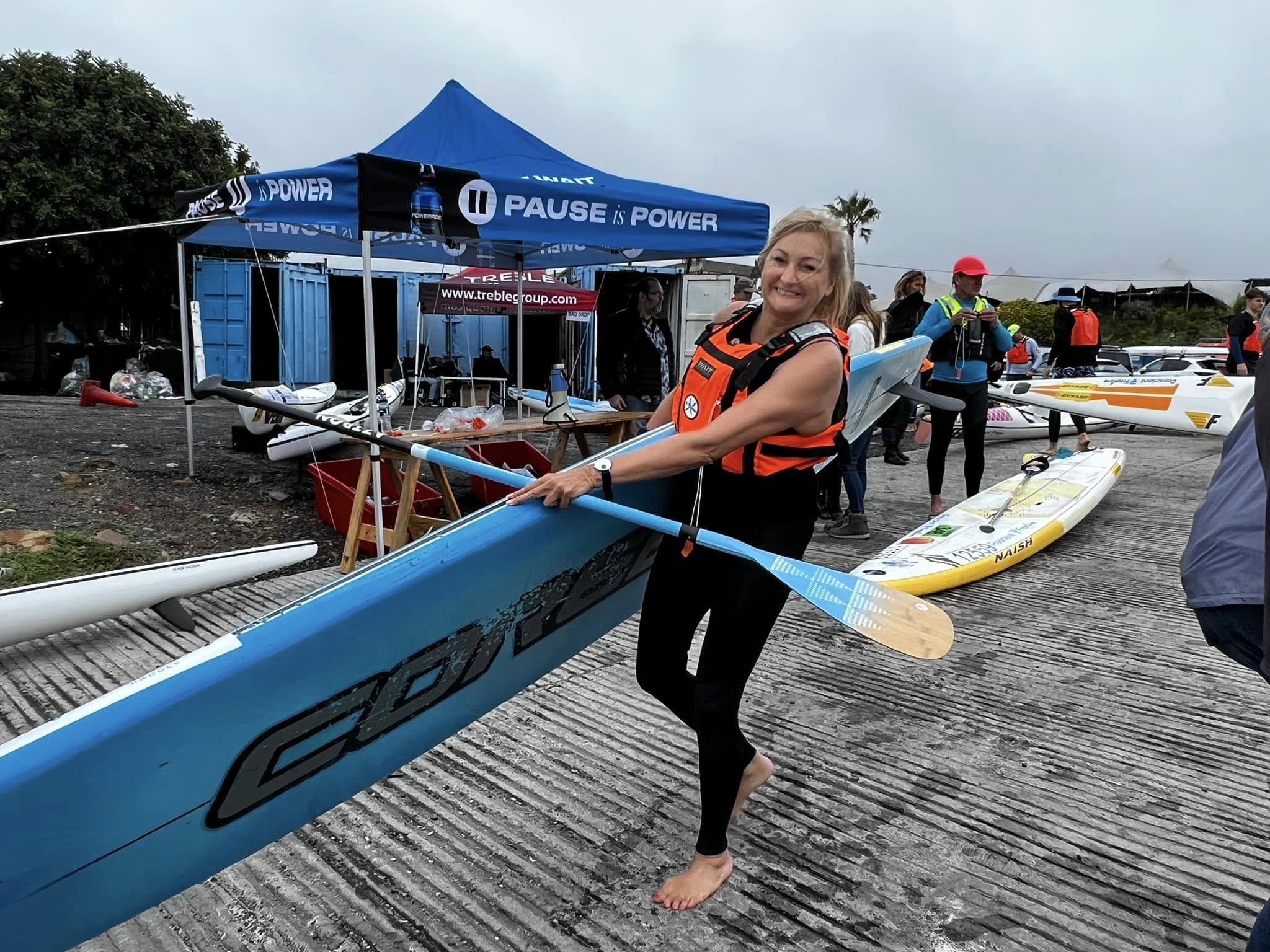 On offer for regular mortal paddlers, was a 10km short course.
This was intended as almost a mini-version of the island experience. It entailed a 1km headwind paddle out to sea, and then a downwind back. Completing five laps would make up the total distance.
"We'd had such beautiful weather all week, so I was hoping for great conditions like last year, but that was wishful thinking. On seeing the churning water and fierce winds, and hearing that some of the early starters for the long paddle had quit, I seriously considered not attempting the start. But nothing ventured, nothing gained, and we positioned ourselves on the starting line with some difficulty staying upright!"  (Lynne Beachy-Head)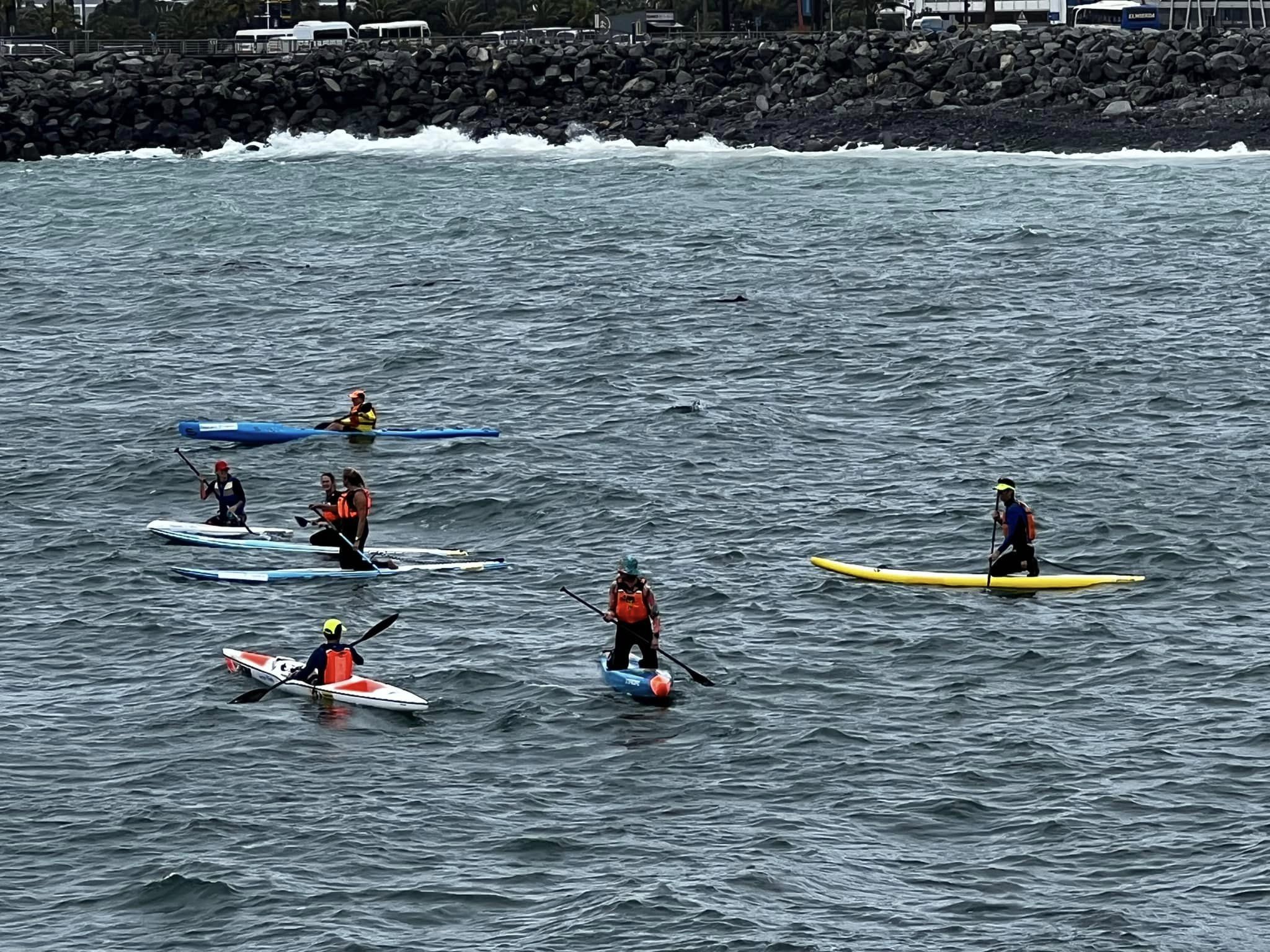 When foul weather threatens, the organisers choose alternative options to ensure the safety of all involved. It does not always make the course easier, but ensures that they can still participate to the best of their abilities.

 

The 5 laps intended were shortened to 3, but even this did not make for easy going.
"Thankfully the course was changed to suit the conditions, but the slog to reach it heading into the wind had me resorting to my knees. Having rounded the buoy, I was hoping to catch runs back but the unpredictable swell was from all directions. This meant I had to stay on my knees and could only stand up after the breakwater to make a vaguely respectable exit, and end my attempt after only one lap. It was just too gruelling!"  (Lynne Beachy-Head)
"The conditions were pretty gnarly with strong wind and big swell. The vibe was great though! I only ended up doing 1 lap, but in retrospect I feel like I should've pushed myself and done another lap. (It ended up being only 3 laps in the end, but I only found out afterwards.) It's fine, and was a great experience all round – I'll definitely do it again!" (Gaby Nordgaard)
"Yesterday was a question of should I stay or should I go? The hype got to each and every paddler and it was difficult not to go and see for ourselves. On the short course there was knee paddling into squalls for the first 2 rounds. Most paddlers bailed after one lap. Three of us remained standing and Mark Bind showed us some prone paddling techniques which were quite amazing to see on a 14 foot Naish! The downwind section was fun closer to the wall, if your legs were strong enough to time it right between side-swell, with some swimming in between, and an enormous sun fish looking on.  (Evette Terblanche)
Gary Van Rooyen reports about the short course race:
"Absolutely brutal, really tough…..Even the short course was a kilometre straight out to sea, very, very tough. Well done to the girls!  You know, they spent most of their time on their knees, but well done for even trying. It was terrible – the wind, the chop, the swell, NOT pleasant at all. but well done to them!"
This is only the start of the story – follow on to the
Prone and
Long course articles. These also have details of the experiences and lessons learnt by the paddlers taking on the trip to Robben Island under gruelling open ocean conditions. 
All photos courtesy of Prescient Freedom Paddle photographers.