The Red Paddle Century City 10km National SUP race was successfully completed on a windy, overcast and cool day this past Sunday the 13th March in the natural canals of Century City around Intaka Island. The 10km SUPSA sanctioned elite race was followed by a shortened 2km fun paddle.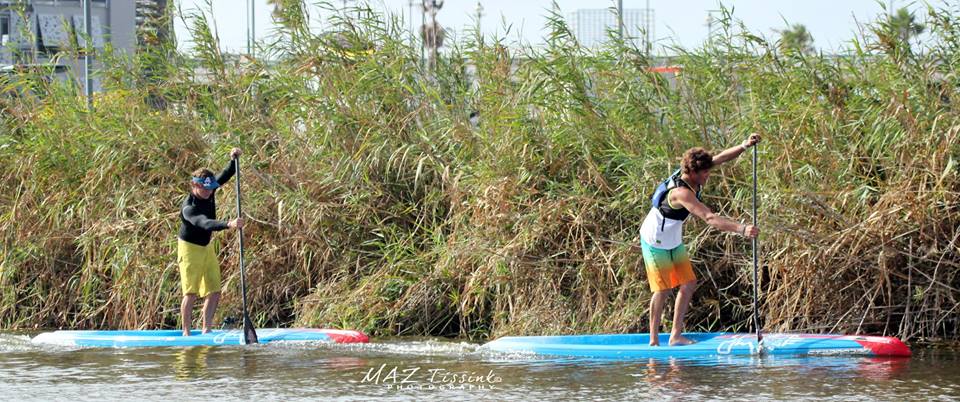 The main 10km race saw 27 of the country's top paddlers competing for a first prize of R 5,000.00 in each of the two elite classes and valuable National qualifying points. The cool race conditions proved to be tougher than anticipated with a brisk breeze turning into a stiff head wind on the Canal Walk 'there and back' section due to the wind contouring and accelerating around the buildings. The men's race was decided on the upwind section of this Canal Walk section and Chris Couve managed to break Dylan Frick's tough challenge at the beginning of the 3rd lap of the 3,3 km course. The ladies race was decided further around the course on the last lap when Jacqui Le Cort De Billot broke Tarryn King's spirited challenge to win by a short distance. The Legends class was well won by Rory Smyth who finished a competitive fourth overall just behind Tom King in third overall. The junior class was won by Matthew Maxwell who was chased all the way by young Cameron Tripney who just finished second in the junior boys class. The divas race was won by Monika Welmoed. Unfortunately no junior girls competed in the main event.
The shortened, due to the wind, 2km fun paddle attracted over 50 paddlers which was commendable considering the less than ideal weather conditions. The open 'come and try SUP' day in association with the Century City SUP club held on the Saturday prior to the race day also attracted over 80 first time paddlers.
The well received event would not have been able to have been run without the hosting of the event by Century City and the assistance of their excellent administrative and technical services teams. Century City also supplied the R 15,000.00 cash prizes for the elite men's and ladies top three finishers which were also well received.
Besides Century City, Red Paddle would like to thank the other co-sponsors, which also contributed to the successful completion of the event and contributed give – away' s and prizes worth around    R 50,000.00, and they are
Cape Union Mart
Coreban SUP
Boga SUP
Vita Coco drinks
Powerade
Crystal Towers Hotel
Intaka Island
Century City SUP for assisting with registration and time-keeping
We are convinced that this successful running of the first National SUP event of the calendar year will continue to grow and contribute to the overall growth SUP in South Africa for years to come.
Words: Paolo Lupini for RED Paddle Co., RSA | Pics: Maz Tissink