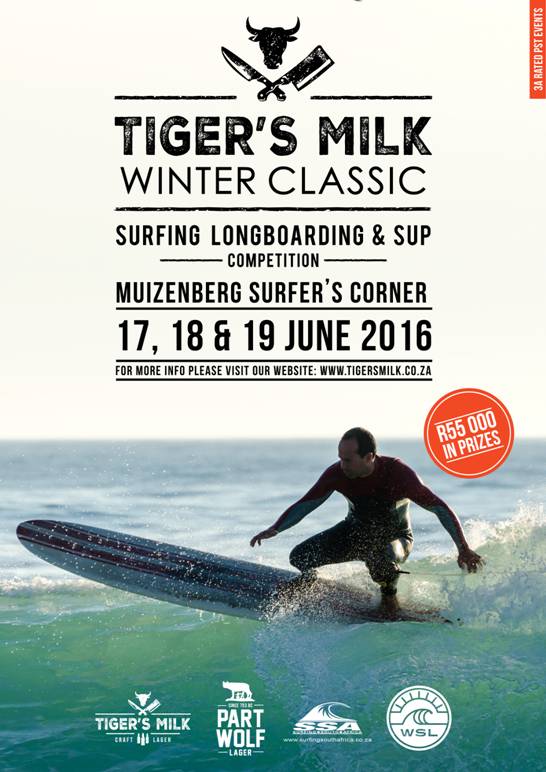 2016 Tiger's Milk Winter Classic to bring an international flavour to Muizenberg Corner in June 
After the success of the inaugural Tiger's Milk Classic at Surfers Corner in Muizenberg Corner last year, the 2016 Tiger's Milk Winter Classic will not only be even bigger and better this year but will also have an international flavour added to the menu.
Tiger's Milk have upgraded the Men's and Women's Longboarding Divisions to World Surfing League (WSL) Speciality status, making it the first ever WSL speciality longboard surf contest to take place in South Africa. In addition, an Over 40 Longboard division for the more mature competitive longboarders has been added to the mix.
As was the case in 2015, this year's event will not only cater for longboarders but will also include Surfing South Africa 3A PST rated Open Men, Open Women, Under 18 Boys and Under 18 Girls surfers, a Stand Up Paddle Waveriding contest for Men and Women, as well as the unique Men's and Women's Varsity Divisions for registered student surfers.
With a total of R55000 in prize money is on offer across the board in this multidiscipline surfriding event and up to 100 local and national surfriders expected to take part, the Tiger's Milk Winter Classic is definitely a premier event on the Surfing South Africa contest calendar. Online entries for all the divisions will open on www.surfingsouthafrica.co.za on Monday May 16th. Entries will close once each division is full.
ABOUT SURFING SOUTH AFRICA
The 2016 Tigers Milk Winter Classic is presented by Surfing South Africa, the recognised governing body for the sport in South Africa. Surfing South Africa is a member of the South African Sports Confederation and Olympic Committee (SASCOC) and the International Surfing Association (ISA).
ABOUT TIGER'S MILK RESTAURANT & BAR
Located in the heart of the Cape Town Surf scene, Tiger's Milk brings both a heighted sense of excitement and delicious food to Surfers Corner in Muizenberg. Serving generous portions of all your favourite 'Dude foods' with a panoramic view of the bay is a hard combination to beat. It wasn't long before this popular restaurant became a franchise, with the second branch opening up successfully in Long Street, and a third instalment opening its doors to Century City in May of this year. It is through Tiger's Milk's love for surf that has led to them hosting the Tiger's Milk Classic Surf competition in 2015 and again this year. Their aim for sponsoring this competition is simple; to promote surfing as a sport in South Africa and provide accessibility to emerging surfers. Through the expansion of the brand, Tiger's Milk has held on to the ethos that their customers have fallen in love with: mouth-watering 'Dude Food' enjoyed in a festive environment.