Men's SUP Racing

Dylan Frick (course race)
Dylan is South Africa's Stand Up Paddling Racing Champion and is ranked Top 10 in the world in Stand Up Paddle Racing. "I finished school end of 2013, then went overseas and just trained and did all do SUP contest possible as well as follow the World Stop events and aim to be on the podium with Connor in 2015.
Follow Dyl on social media:
Facebook: Dylan Frick
Instagram: @dylanfrick720
Ethan Koopmans (distance race)
Ethan is a true waterman and has been competing since he was 5 years old. He was the N1SCO World and European Champion in 2013, is currently ranked #1 Junior for Wave Riding in SA and Ranked 4th in the Mens Division. In SUP Racing he is the Junior Champion and Ranked #2 in Men's at the end of the 2014
Follow Ethan on social media:
Facebook: Ethan Koopmans
Instagram: @ethankoopmans
Wade Keet (course race)
Wade has been a waterman all his life, growing up surfing his local break of Melkbos everyday after school. This passion for the water was then channeled into Stand Up Paddle boarding when he got his first SUP in Grade 8. Since then he has been obsessed with SUP racing and will be representing RSA for the first time in Mexico.
Follow Wade on social media:
Facebook: Wade Keet
Instagram: @wadek0402
Joshua Robertson (distance race)
Joshua was born in Cape Town and moved to Bermuda when he was 7. After I moving back at the age of 12 he started surfing and kitesurfing. Soon after he fell in love with SUPping. When he's not on his race board he'll be surfing, kitesurfing, skateboarding or riding his motorbike. He's 2nd in juniors racing and surfing, and 4th in open racing for 2014.
Follow Joshua on social media:
Facebook: Joshua Robertson
Instagram: @joshua2811
Women's SUP Racing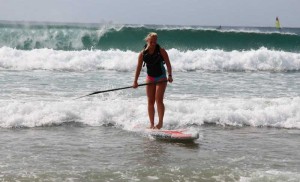 Mishka Steyn (course + distance)
Mishka is SA Open Women's Race Champion and holds the Title for SA Juniour Wave Champion. She consistently places amongst the Top 3 in Wave Events in the Women's Open Class.
Follow Mishka on social media:
Facebook: Mishka Steyn
Instagram: @mishkasteyn
Men's SUP Surfing
Justin Bing
Justin was introduced to Stand Up Paddleboarding by Ivan Van Vuuren back in 2009 and was immediately hooked on SUP. He then got his first 8″ Vibe which he then committed on at at the first ever ISA SUP World Champs in Peru in 2012. He has since represented SA at World Champs 6 times in countries all over  the world.
Follow Justin on social media:
Facebook: Justin Bing
Instagram: @justinbing1
Thomas King
Tom has been surfing since the age of 5, surfing short boards until 18 and represented WP on multiple occasions. He still longboards today and has been SA champion as well as placed 4th at ISA World Longboard Champs in 2013. His SUPing career started about 4 years ago and Tom hasn't looked back. This year is a big year for him as he represents SA at world SUP champs as well as competing on the SUP world tour. Follow Tom on social media:
Facebook: Thomas King
Instagram: @tomkingsurf
Women's SUP Surfing
Tarryn King (née Kyte)
Taryn started surfing when she was 14 and competed on a shortboard for 5 years and then started lonboarding, which she still competes in today. Her SUPping career started 3 years ago and has since been the South African Open ladies Champion for 2 years now and will be travelling to the ISA world games for the second consecutive year.
Follow Tarryn on social media:
Facebook: Tarryn King
Instagram: @_tarrynking_
Men's Prone Paddleboarding
Jayden Loots (course + distance)
Jayden, 24 years old from Cape Town has represented South Africa on several occasions as a member of u23 and open surf lifesaving team. Jayden is also a successful Surfski paddler, placing 2nd in the grueling 260km Port Elizabeth to East London Challenge in 2014. He has also attended 4 Lifesaving world champs over the past 8 years.
Follow Jayden on social media:
Twitter: @jayden_loots
Instagram: @jayden_loots
Women's Prone Paddleboarding
Anna Notten (course + distance)
Anna Notten, 22, was born in Cape Town & grew up next to the sea in Kalk Bay. She comes from a strong lifesaving background, last year competing (winning both gold and silver) in the Lifesaving World Championships in Montpellier, France. This year, after being crowned victrix ludorum at the national 2015 South African Surf Lifesaving Championships, Anna has been selected to represent South Africa in Australia later this year. In 2012 she gave the long distance a try, competing at the ISA World SUP and Paddleboard Championship in Peru where she achieved a second in both the 6 km and the 18 km prone paddle board races.
Team Management
Candace Hurn – Manager
Gary van Rooyen – Coach
James Raaff – Medical Support
SA SUP & Prone Paddleboard Team representing at the 2015 ISA Worlds in Sayulita, Mexico
Like them on Facebook: SA SUP Team